Ellie is a loving girl who enjoys having human company. She is not an energetic dog and will happily lay down for belly rubs all day. She enjoys all contact and that includes brushing and cleaning. She is sociable with dogs outside the home but in the home, she will need to be the only dog, as she prefers all the attention for herself.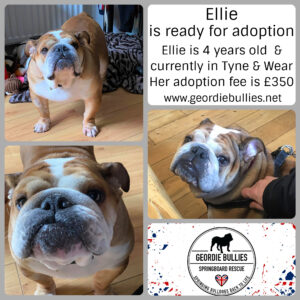 Dogs Name:  Ellie
Age:  4 ½ years old
Can live with children:  Yes
Can live with dogs:  No
Can live with cats:  Yes, dog savvy cats
Current location:  Tyne & Wear
Things to be Aware of:
Ellie came to us overweight and this affected her breathing somewhat, so she is on a restricted diet which she will need to be on to help her get to a healthy weight
The Ideal Family:
Ellie loves a calm home and has visibly flourished in foster. She has been around children but as she is untested with young children, ideally, we are looking for a home with children over 7 and or dog savvy children. She is not into rough play so any children will need to understand she likes her own space and doesn't want too much fussing.
Other comments:
Ellie was shy when she came to us but she has come out of her shell and as she is losing weight she is starting to enjoy her walks a little more but she is still a plodder and doesn't walk too far at the moment.
She is house trained and spayed; she doesn't use a crate and she can be left for up to 4 hours at any one time. 
Ellie isn't a great traveller so ideally, we will be looking for a new home up to 3 hours form her location in Tyne and Wear, however, but for the right home we would consider a location up to 4 hours maximum from her foster home.
If you have any questions, please ask Rachel Davies foster mum to Ellie
Ellie's adoption fee is £350 and will need to be paid in full prior to her going home which will also be subject to a home check.

?? PLEASE READ CAREFULLY BEFORE APPLYING ??

1. Have you read the adoption criteria in full?  You must meet ALL dog's criteria.
2. COMPLETE APPLICATION form and pay your £5 subscription
3. PAYMENT REFERENCE must on the application form to cross reference.
4. PAYMENT METHOD : pay via PayPal www.paypal.me/gbspringboard or
Bank transfer Sort : 09.01.28 Acc : 92014344.

?? UNLESS WE SEE PROOF YOU HAVE PAID; WE CANNOT PROCESS YOUR APPLICATION ??.

£5 per year allows you to apply for as many dogs as you wish should you not be suitable on your first Application.
To apply, please complete the application form below

https://www.cognitoforms.com/GeordieBulliesSpringboard1/adoptionapplication