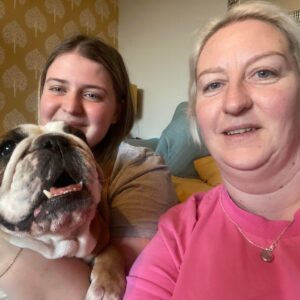 Elsie has found her way 'home!
She just happened to know it before we did, Elsie is staying put with her foster family.
Elsie was returned to us under our RBU (rescue back-up for life) and she quickly settled into foster life with Leanne and her family without a hitch.
She bonded almost instantly with Leanne becoming her little shadow. And how could they not completely fall in love with Elsie.
Sadly, we didn't receive any applications to adopt Elsie, not one which, whilst shocking, it is a sign of the current financial crisis. Luckily it has worked in Elsie's favour because it gave her foster family the opportunity to make her a permanent member of their family.
It has also meant we don't have to up root her again and put her through the stress of a new family or environment.
So welcome home Elsie and huge congratulations to Leanne and your family and we are already looking forward to following your lives together.
A little of Elsie's story below
Very sadly Elsie has come home to GBSR.
Not ever next chapter can lead to a happily ever after!
Elsie had become combative with Earl her fur brother. Her owners tried lot's of different training techniques, but unfortunately non were successful. So after many talks her owners and ourselves made the decision to bring Elsie back into foster.
Elsie is in foster with Leanne and her family, she is settling well and learning her new routines.
Welcome home Sweetheart. We promise we will find you, your happily ever after.  
This is why we are a Rescue Back up For Life Rescue!
Elsie is a timid and placid little girl who is very loving once she has warmed to you. She needs a little verbal encouragement with new people but soon she relaxes and enjoys fuss and attention.
She enjoys her walks, and she is scared of new dogs when she first meets them, but she will play and then she will let the dog know when she has had enough. Elsie doesn't play with toys or balls
Elsie understands commands and is a very well-behaved little girl
Elsie is very much a princess, like every bulldog should be.
Elsie is an incredibly affectionate young girl with her humans, she loves being fussed, cuddled and groomed.
Her absolute favourite way to spend her time would be to happily spend her days cuddled up on your knee snoozing the cold weather away.
Elsie has recently decided she does not wish to share her humans with her fur brother and has become aggressive towards him.
Unfortunately, this means she needs to be an only dog, but she more than makes up for that with her charismatic nature. She has no problem telling you when she wants attention.
Elsie bonds very closely with her human, she it the epitome of a companion dog.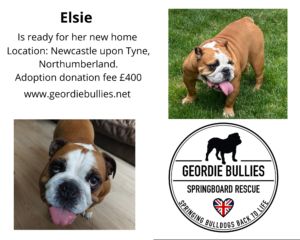 Dogs name:
Elsie.
Age:
4years old. 
Can live with children:
Yes, dog savvy children.  
Can live with dogs:
No.
Can live with cats:
untested. 
Current location:
Newcastle Upon Tyne, Northumberland
Things to be aware of:
Elsie must be an only dog. Elsie isn't a fan of getting her face or folds cleaned, she will struggle but plenty reassurance and patience and you will get there.
Elsie can be excitable and bouncy when she sees her harness, and she loves a walk, but she has become reactive towards unfamiliar dog's she perceives as approaching her space.
Because Elsie can be bossy and bouncy any young children must be supervised at all times as Elsie has the potential to knock them over.
Elsie has coped very well moving into foster but is showing signs of separation anxiety. All to be expected in her circumstances.
Elsie has her quirks, and her new owner must be prepared to work with her and in return she will be a perfect home companion dog. 
The ideal home:
Elsie would benefit greatly from a calm but active family home.
With dog savvy children that can understand when Elsie needs her space and time to rest undisturbed.
A family that will include Elsie in every part of family life.
That understand Elsie's needs and are prepared to help her through training with patience and understanding.
A family that understands that adopting a rescue isn't an overnight success it takes time, patience and unconditional love. Elsie would need to be in a home where she isn't left often or for long periods of time.
Other comments:
Sadly, not every adoption is successful and that is the case with Elsie.
Her adopted parents were devastated to make the decision to have to return Elsie, but they feel that there is a risk of both dogs becoming seriously hurt.
And with a baby on the way it wasn't something they can take lightly. It truly breaks our hearts to see such a wonderful bulldog come back into foster, but we have no doubt the perfect home is out there for her.
Elsie has coped incredibly well moving back into foster, a new home, new environment and new rules. The majority of dogs struggle which is to be expected, but no shock really when we see Elsie being her wonderful self. Just needing a little extra love and a gentle hand. 
Follow Elsie https://www.facebook.com/geordiebullies/
{"slide_to_show":"3","slide_to_scroll":"1","autoplay":"true","autoplay_speed":"3000","speed":"800","arrows":"true","dots":"false","loop":"true","centermode":"false"}