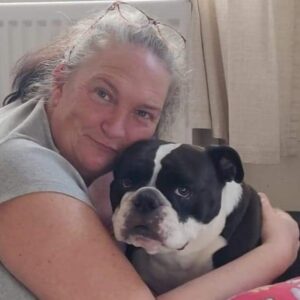 Talulah (AKA Loony Lulah) has found her forever home with Yolanda!
As you will remember, Yolanda's heart was truly broken after Bettys passing, and she really didn't know if she would ever be able to foster again but then Talulah came along!
Talulah was little girl, who, whilst loved by her previous owner, really wasn't living her best life and she needed to go to a dog free foster home.
Even though she was still grieving for Betty, Yolanda put her sadness to one side and welcomed Talulah into her home. We had no other 'dog free' fosters available and Yolanda put this girls needs above her own.
We didn't think Talulah would be in foster very long but Talulah had other ideas!
She has kept Yolanda on her toes from the day she arrived, and they have developed a lovely bond, they get one another completely it was meant to be!
No-one suitable had applied for Talulah and so when Yolanda offered her a permanent home, we could not have been happier.
We think Talulah as been sent by Betty to help Yolanda's heart heal!
Yolanda's heart still had room to love another girl and Loony Lulah fits the bill perfectly.
So please join us in sending HUGE congratulations to Yolanda and Loony Lulah
We predict lots of fun times ahead for you both, lots of boxes ripped up, more holes in the Nestie cover and a few more bite marks around the bin for starters!
Have a lovely happy life to you both, and we are really looking forward to following your adventures xxx
A little of Talulah's story below,
Talulah is a sassy, cheeky girl who thrives on routine and love. She adores having tummy rubs and cuddles and she is very playful. She is strong and will rag her toys and will decide you have invited her to play tug of war if you try and take a toy from her.
Talulah is typically stubborn when it comes to commands, and she isn't keen on dogs approaching her outside, so she is walked on her own. She loves going on her walks, but she isn't a long-distance walker, 15 mins twice a day is enough for her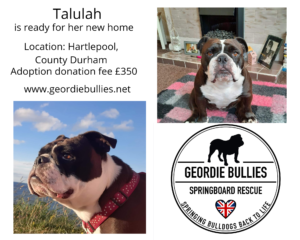 Dogs name: Tallulah
Age:  5 Years 10 months
Can live with children: 8 years and over
Can live with dogs: No
Can live with cats:  No
Current location:  Hartelpool, County Durham
Things to be aware of: 
Talulah gets anxious when you leave her to go out and will jump at the door and her foster mum to stop her. This will need to be managed and over time, once there is a routine in place with her new family, we would expect this to get better although in our experience this isn't always the case.
The ideal home: 
Talulah would be best placed in a home without other animals and older children. She is a very loyal dog that has been left for long periods in a previous life, so this is why she displays some anxiety at being left now. Ideally, she will find a home where there is someone around for most of the day who can set a routine for her and take her for a couple of short walks a day. She will only toilet on grass, so she needs a home with a garden.
Other comments: 
Talauh makes her foster mum smile every day. She is mischievous and cheeky and loves having lots of attention. As mentioned, she does display some anxiety at being left so this needs to be managed in her new home. It's managed in her foster home so this shouldn't put anyone off applying for her.
Talulah travels well so we will consider a new home for her up to 4 hours from her current location.
{"slide_to_show":"3","slide_to_scroll":"1","autoplay":"true","autoplay_speed":"3000","speed":"800","arrows":"true","dots":"false","loop":"true","centermode":"false"}