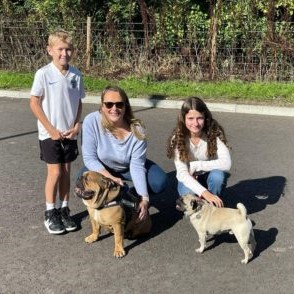 Ernie is Home
We are thrilled to announce Ernie has found his loving forever home with Lucy and Chris, and their two children, William and Ernie also has a new BFF in Pablo the Pug.
He was collected by his new family and quickly settled into his new role and enjoying being part of Lucy and Chris's family.
He has unfortunately wasted no time in gassing then all out with his butt puffs Ernie has been a very well-behaved little boy whilst visiting extended family and meeting new canine friends
Please join us in congratulating Lucy, Chris and their family on their gorgeous new baby boy. We wish you all a lifetime of endless fun and happiness together.
To Ernie, Happy forever home darling boy, we look forward to seeing all your future adventures.
A massive thank you to Hannah and Mitchell on an amazing first foster. You have been a huge part of Ernie's journey and we know he has worked his way into your hearts.
Thank you so much for caring and loving him like your own x
A little of Ernie's before story,
Ernie is a playful gentle and loving boy who adores all human contact and really enjoys the company of Hallie, his foster fur sister. They play very well together and like to sleep near each other.
He is also in foster with a 4-year-old child, and he has been very gentle around him, even if the child has his favourite ball, Ernie will sit and wait for it.
Ernie happily walks with Hallie but likes to stop at every opportunity to sniff and pee. He doesn't really bother with dogs whilst on his walks but will play if given the opportunity.
He is good with commands and is good meeting and greeting new people and dogs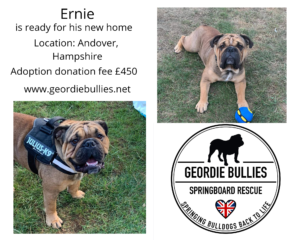 Dogs name: Ernie
Age:  1 Year 5 months
Can live with children: Yes
Can live with dogs: Yes – sterilised
Can live with cats:  Yes
Current location:  Andover, Hampshire
Personality: 
Things to be aware of: 
Ernie needs to be neutered at 18 months so this will be done once he has been rehomed. The charity will organise and pay for this at a vet out our choosing.
He is also a bit of a grazer, but this is being addressed whilst in foster.  By the time he 'goes home; he will have 2 regular meals a day.
The ideal home: 
Ernie will suit any loving home.
He has a fabulous nature and has been great with the children in foster. It would be lovely for him to have an equally friendly and playful fur brother or sister but as Ernie isn't yet neutered, any resident dog will need to be sterilised.
He enjoys having human company and being a part of everything that is going on in the home so ideally he will be taken out and about and be treated as part of the family and not left for long periods.
Other comments: 
Ernie has been a wonderful boy in foster, he is well socialised and has good manners and he will make a lovely addition to any family.
{"slide_to_show":"3","slide_to_scroll":"1","autoplay":"true","autoplay_speed":"3000","speed":"800","arrows":"true","dots":"false","loop":"true","centermode":"false"}