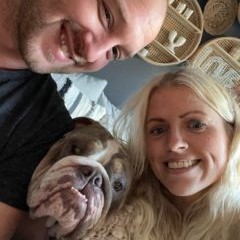 Clara is home!
We are very pleased to announce that our gorgeous girl Clara has gone home. To live the life she so deserves.
Clara is now living with Katie, Brad, their family and Fur brother and sister Ralph and Tink.
Clara has gotten to meet her, grandma and uncle. And got to stop and have a pup cup on her way home she has wasted no time getting to know everyone. The whole family adore her already well who couldn't love her?
So please join us in congratulating Katie, Brad, their family and Clara, we are looking forward to seeing you continue to grow and thrive with the family you deserve and will treasure you xx
A huge thank you to El and Dan who has done a fabulous job preparing Clara for her forever home. Thank you so much x
And we can't forget GBSR Meeks who has been the most amazing foster sister, with the biggest heart. She will furever have your paw print in her heart. We don't believe Clara could have healed like she has without you!!
They have worked miracles with Clara, this was not an easy foster at all. But they never questioned what was needed and never gave up and to see the change in her has been amazing x
A little of Clara's story below,
Earlier this year we were alerted by several supporters and volunteers about a little girl being sold online.
Clara had been bought a week prior.
The new owners had seen the state of her and knew there was no way she could stay where she was, so they brought her home.
As the days unfolded, they realised that Clara was in a worse state than they first realised,
So, with a heavy heart, they made the decision to rehome her where someone more experienced could get this girl the care she needed.
We contacted the owner and explained what we could do to help.
They had already fallen in love with Clara so they were relieved we could offer her a foster space and ensure that she would never ever be used and abused again.
And we would help her heal physically and mentally from her previous life.
Clara's short 3 years of life was spent being 'used and abused' by a Greeder:- breeding her back to back
Her skin condition was never addressed, and it looked like demodex mange,
Her cherry eye has been left untreated and both eyes are very sticky,
Her heart murmur hadn't been investigated,
Her feet are incredibly sore with mange and from living outside,
No doubt Clara's Greeder has made bundles of money off the back of this poor girl but none of it found its way back towards her care!
Look at the state they left her to live in, it makes us so upset and angry!
Clara was soon seeing our vet as she needed a Treatment Plan to start straight away.
We need to rule out Pyometra, as you can see, she is in season again,
We need treatment for her terrible skin and her cracked paws,
We need to understand the extent of her heart murmur and get her on meds if needed,
We need to see if her cherry eye gland can be pocketed or as we suspect, will need to be removed,
We need lubrication for both eyes.
Clara needed, time to decompress, she needed love, she needed nurture, she needed trust, she needed US
Clara is a gentle English Bulldog. She is very loving, sometimes shy, and always very sweet. She isn't very playful and doesn't enjoy 'rough play' but does enjoy being with Meika, her adopted fur sister and they will often snuggle up together.
Raised voices scare Clara and she will run away if she feels your tone means she has done something wrong. She can become anxious being left but her foster family are working on this, and she can be left for up to 4 hours in her crate which is her 'safe place'
She has learnt to enjoy antlers but still isn't interested in toys and she enjoys going out for walks and meeting other dogs.
Commands are still a work in progress, but she will now sit and understands to go to bed.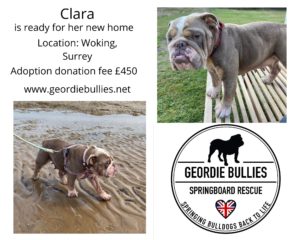 Dogs name: Clara
Age:  3 Years 1 month
Can live with children: Yes
Can live with dogs: Yes, must be sterilised
Can live with cats:  Possibly
Current location:  Woking, Surrey
Things to be aware of: 
Clara has a heart murmur and is having a heart scan with us in October to ascertain the degree of the murmur.
Because of the heart murmur, Clara hasn't been spayed or had her cherry eye glands operated on. We have been advised the murmur is low grade but until the results come back, we can't be certain.
Once we have the results, we can organise the spay and cherry eye operation and this will be undertaken by our preferred vet in The Midlands so Clara's new family must be within a commutable distance of Solihull. The charity will cover the cost of these operations.
 The ideal home: 
Clara will be a delight in any calm home where she will be loved and not left for long periods.
She has grown in confidence living with Meika in her foster home, so ideally, she will have an equally friendly and calm canine companion to help her continue to flourish and gain more confidence.
Clara is very gentle around children but as always, young children should be supervised.
Other comments: 
Clara has had a dreadful start to her life and her body is still recovering from the neglect she has suffered.
She wasn't housetrained when she first came into foster, but she has got the hang of it now. She might still have the odd accident as she doesn't bark to go out yet.
Clara also struggled to eat when she came to us, but her kibble is now softened, and she is fed from a raised bowl, this needs to be continued.
Clara is a sweetheart of a girl, and she has started to shine now. Her new family need to provide a stable and loving environment that isn't too hectic or loud. She needs to carry on learning what life as a dog is meant to be like, not how it has been in the past.
{"slide_to_show":"3","slide_to_scroll":"1","autoplay":"true","autoplay_speed":"3000","speed":"800","arrows":"true","dots":"false","loop":"true","centermode":"false"}