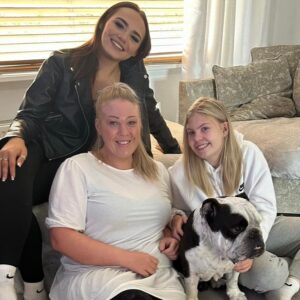 Gorgeous George is home!
George was collected on the weekend by Lei and Steven and their beautiful family. George settled really well and has been the perfect gentleman. Not only has George got a loving forever family, but he also has a new BFF in Lincoln, the bulldog.
His mum has described him as affectionate, laid back and gentle, and they have already fallen in love with their gorgeous and gentle George.
We would like to say a big heartfelt thank you to Alison Gracey and her family for fostering George and preparing him for his forever home. We can't thank you enough for everything you have done for him, especially nursing him through that horrid ear infection he had. Thank you so much, Alison, on another wonderful foster and for being the best mummy to George.
Please join us in congratulating Lei and her family on their handsome boy.
To George Welcome to the rest of your life gorgeous.
Be a good boy, sweetheart We look forward to seeing lots of updates on all your new adventures with your new family and Lincoln.
Previous adoption statement below,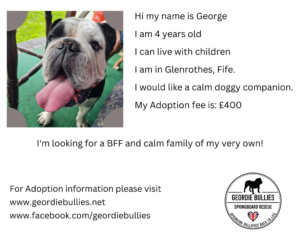 Dogs name: George
Age: 4 years old.
Current location: Glenrothes, Fife.
I CAN LIVE WITH
Children: Yes, I like dog savvy children.
Cats: Yes, dog savvy.
Dogs: Yes, any dog in the home must be calm and laid-back, as George will withdraw from an excitable dog. And any females must be spayed as George is waiting to be neutered.
A BIT ABOUT ME
Personality:
George is a very laid-back dog and gentle boy; He loves to be with and is very affectionate towards his humans as he loves to snuggle up next to them.
Behaviour:
George is not overly playful with other dogs; much prefers human company. Doing well learning commands, training will need to continue in his new home.
Needs:
An active family home with a garden.
A family committed to training George and helping him reach is full potential.
Walk/exercise:
George enjoys his walks and generally walks well on the lead. He is happy to walk alone or as part of a pack and is currently having 2 walks 20-30 mins a day and sometimes a bit longer at weekends.
Toilet trained:
Yes, George will tell you when he needs to go out.
Can be left:
George can be left for up to 4hours, he will happily curl up in his bed and sleep.
Travel:
George travels very well, because of this we will consider applications up to 4 hours away from his current location.
Things to be aware of:
George came into GBSR with a terrible ear infection he has almost finished his treatment, but we recommend regular ear cleaning to prevent further infection.
Due to the ear infection, it was decided to hold off on his neuter. He will be neutered once his infection is cleared, and as such he will be going home on a 'to be neutered' contract which will be undertaken at a vet of our choice with costs covered by the charity.
Any children in the home must be supervised, as George has the potential to jump and knock smaller children over.
Children must understand that bulldogs need time to settle in and have space to rest peacefully and uninterrupted.
Additional information:
George is an incredible and handsome you man, if you are looking for a gentle soul this is your boy. Any family would be extremely lucky to adopt this sweet boy.
George's adoption donation fee is £400 and will need to be paid in full prior to him going home which will also be subject to a home check.
**The successful applicant will need to have an active Facebook and Messenger account for the life of the dog. If you cannot agree to this, please don't apply**
🚨 PLEASE READ CAREFULLY BEFORE APPLYING 🚨
You MUST MEET ALL the dogs' criteria, have you read the adoption criteria in full?
COMPLETE APPLICATION FORM
PAY YOUR £5 SUBSCRIPTION – SEE NOTE BELOW*
PAYMENT REFERENCE must on the application form to cross reference. Mention if you have paid by Paypal or Bank Transfer if you are unable to provide a Transaction Number so we can check.
PAYMENT METHOD Via Enthuse using the link below.
https://geordiebullies.enthuse.com/donate
Note:
UNLESS WE SEE PROOF, YOU HAVE PAID; WE WILL NOT PROCESS YOUR APPLICATION AND YOU WILL NOT BE CONTACTED.
£5 per year allows you to apply for as many dogs as you wish over a 12-month period from your first application. Please mention if you have paid by PayPal or Bank Transfer on any previous applications so we can cross reference.
Below is the link to the Application Form.
https://www.cognitoforms.com/GeordieBulliesSpringboard1/adoptionapplication
George's story below,
Please say hello and welcome to gorgeous George
George is 4-year-old entire male.
We were contacted by George's owner asking if we had space to take him in.
She has had a baby and he has developed allergies to George's fur.
Rather than just selling him and him potentially being passed around she wanted to keep him safe.
He has a bald patch near his tail and long claws from not being walked very much.
Apart from that he looks to be in good shape, but he will be checked over by our vets and being neutered.
A big thank you to Alison & Scott for collecting George and keeping him in foster in Scotland.
When he is ready for his forever home his adoption Poster will be shared, so please keep your eyes peeled for more George updates.
Welcome to your GBSR Family George! We cannot wait to share the next chapter of your life with you!!
Follow George https://www.facebook.com/geordiebullies/
{"slide_to_show":"3","slide_to_scroll":"1","autoplay":"true","autoplay_speed":"3000","speed":"800","arrows":"true","dots":"false","loop":"true","centermode":"false"}