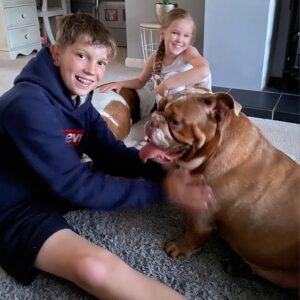 Dio is Home!
We are absolutely thrilled to tell you Dio is home and has settled very well with Amy and her family.
Dio has had a settled first night and has been enjoying all the attention from her foster siblings and new BFF Eric.
With no further ado, please join us in wishing Amy, Dio, and her family many congratulations.
We wish you all the happiest of lives together.
To Dio enjoy your fabulous new beginnings, sweetheart with Eric and your beautiful new family, and we can't wait to see all your new adventures.
Thank you to Rachel Caulkett and family on an amazing first foster and for taking great care of Dio whilst preparing her for her forever home. We are very grateful to you for all your help as always.
Dio's previous adoption statement,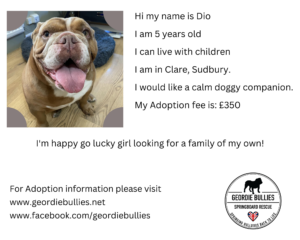 Dogs name: Dio.
Age: 5 years old
Current location: Clare, Sudbury.
I CAN LIVE WITH
Children: Yes, I love children.
Cats: Dog savvy cats are fine.
Dogs: Yes, calm and laid-back.
A BIT ABOUT ME
Personality:
Dio is a typically cheeky and happy go lucky lady who loves her humans.
She is very affectionate, she adores everyone, and she just loves to be fussed!
Dio is very playful and will fetch a toy if you ask her to and she understands commands such as sit, paw, nicely and stay.
Behaviour:
Dio needs to be fed separately from any other dog in the home as she will warn them if they approach while she is eating. Dio will guard her toys and balls, so any dog in the home must have no resource guarding issues. Toys will need to be given in a supervised environment or removed completely.
Needs:
A calm but active family, that will keep her involved with all that is family life. She loves children and will stay by their side but as she is on the larger size, any young children must be supervised and be old enough to understand when she needs her down time.
Walk/exercise:
Dio is a larger lady so gentle walks to start with as she continues her weight loss journey and builds up her stamina. She is a happy plodder and has no interest in unfamiliar dogs whilst out.
Toilet trained:
Yes, Dio is very good.
Can be left:  
Dio can be left for up to 4 hours at a time.  
Travel:
Dio travels very well, we will consider applications of up to 4 hours away from her current location.
Things to be aware of:
Dio is on a weight loss plan that must be continued in her new home, we will advise.
She is wary of her behind be touched when she is not expecting it, this easily startles her.
Additional information:
Dio can happily live with another dog if they are laid back enough to accept all toys are hers, especially footballs. Equally she will be happy living in a home as an only dog.
She is a very loving and well-rounded bulldog and the family who adopts her will be truly blessed to have her in their lives.
A little of Dio's story below,
Dio is a 5-year-old ex-breeding bitch.
Dio had been used for breeding for most of her life and as soon as she was no longer needed, she cast aside.
 A gentleman took her in in the hope he could be her forever after, but it didn't turn out the way he had hoped.
Dio's owner lives in a narrow boat and as the weather got warmer Dio just wasn't settling as well as he hoped. He only wanted the best for her, so he reached out to us for help to ensure she wasn't passed around.
She seems to be in good condition except needing to lose a few pounds.  
Dio will be seeing our vet for a full check-up where she will be spayed before looking for her forever home.
We would like to say a massive thank you to Dio's owner for taking her all the way to Helen's home.  She will be in foster in the midlands.
When she is ready for her forever home her adoption Poster will be shared. So please keep your eyes peeled for more Dio updates.
Welcome to your GBSR Family Dio! We cannot wait to share the next chapter of your life with you.
Follow Dio https://www.facebook.com/geordiebullies/
Or better yet join our rescue group where you can see lot's of updates on all our fosters
https://www.facebook.com/groups/1793138384086708/
{"slide_to_show":"3","slide_to_scroll":"1","autoplay":"true","autoplay_speed":"3000","speed":"800","arrows":"true","dots":"false","loop":"true","centermode":"false"}