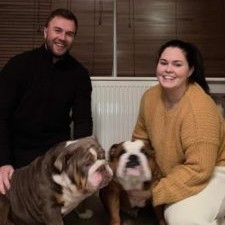 George is Home
A new year, and a new start for gorgeous George as he has found his forever home.
George was collected Thursday and is enjoying being part of family life with James and Alex and their dog Reggie. George is settling into family life well and has enjoyed having a good sniff around the garden, marking his territory. He has had a very settled night and was still snoozing away in his bed when James and Alex got up this morning.
As you can see James and Alex have had fun trying to get family photos. Never easy especially with two pups
Please join us in congratulating James and Alex on their gorgeous new boy, George. We wish you all a lifetime of endless fun and happiness together.
To George Happy forever home darling boy, we look forward to seeing all your future adventures with your new BFF Reggie
A massive thank you to Emma Turnbull on an amazing second foster. Thank you for all your hard work in preparing George for his new family, we are forever grateful as always.
A little of George's story below,
George is a very loving and in general a laid-back young Bulldog. He isn't hugely playful, preferring to seek out human company for attention and strokes. He gets giddy when the children in his foster home are excited or when someone enters the home and will want to be the centre of attention. There is no malice in him, he just loves being around people and 'getting involved'.
He is happy to meet and greet dogs whilst out walking but he sometimes becomes excitable, so his foster parents use treats to make him sit and calm down which is working quite well, and we recommend it continues.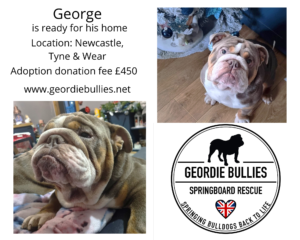 Dogs name: George
Age:  2 Years 2 months
Can live with children: Yes
Can live with dogs: Yes
Can live with cats:  Yes
Current location:  Newcastle upon Tyne, Tyne & Wear
Things to be aware of: 
George is prone to skin conditions so needs a weekly bath in medicated shampoo.
The ideal home: 
George can live with dog savvy children as he loves the company but as mentioned he can get excited if being stimulated so any young children would need to be supervised.
He loves his snoozes so children around him need to be old enough to understand when to leave him napping as its one of his favourite pastimes.
Being the laid-back boy he is, he isn't keen on bouncy playful dogs so any resident dog(s) in his new home will need to be equally laid back.
George will benefit being rehomed with a calm but active family who are dog savvy. He is very trainable with treats and being young he is still learning to sit when he gets excited. If there is a dog in his new home, there should be space to feed separately as George will gobble his food and anyone else's in the vicinity given half a chance.
George is an active boy who loves his walks so this should continue in his new home.
Other comments: 
George has been described as a pleasure to foster by his foster mum. He was very excitable during the first few days in foster, and he may regress a little when his is rehomed, but with a firm hand and continued training he will make a smashing pet for a dog savvy family. George is crate trained.
{"slide_to_show":"3","slide_to_scroll":"1","autoplay":"true","autoplay_speed":"3000","speed":"800","arrows":"true","dots":"false","loop":"true","centermode":"false"}