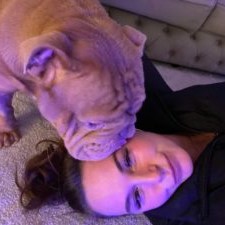 Simba is Home
We are very pleased to announce that our handsome Simba has found his happy ever after with Hayley's family and her beautiful bulldog Xena
When Simba first met Xena they clicked with each other straightaway. They enjoyed a lovely long walk together and once home they had a little play. Simba has had a settled night and has fitted in perfectly with family life and with his new BFF These two are a match made in heaven.
Please join us in congratulating Hayley and family and to Simba have a fabulous new life sweetheart and be gentle with Xena We are looking forward to seeing all your new adventures together. Be happy gorgeous boy.
Huge thank you to Simba's amazing foster mum Mandy who has done a fabulous job caring and preparing Simba for his forever home. Thank you so much Mandy, we are forever grateful for all you do for our dogs and us.
A little of Simba's story below,
We were contacted by Simba's owner. After recently having a new baby Simba wasn't coping well at all although he wasn't showing any signs of aggression, he was showing signs of distress. He started itching his skin all over and started having accidents in the home which wasn't like him. She reached out to us to see if we could take him in and find him a forever home.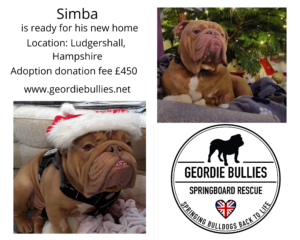 Dogs name: Simba
Age:  3 years 10 months
Can live with children: Yes
Can live with dogs: Yes
Can live with cats:  NO and no other furries
Current location:  Ludgershall, Hampshire  
Personality:
Simba is a very loveable little lad who loves to provide a good ear lick to his humans. He lives with a female Frenchie in his foster home they generally get on well.
He gets excited when it's time to go on a walk and will try and snatch and the lead, this is controlled with a firm NO by his foster mum.
Once Simba is out, he walks well but will pull to get to other dogs. He can be reactive if a dog is reactive to him but otherwise it's just excitement.
Simba understands commands on his own terms which is usually involves the use of a treat..!
Things to be aware of:
Simba will cower if there are any raised voices or loud bangs, and he needs to remain on his Hypoallergenic diet as he has been prone to skin allergies in the past which has required a short course of Steroids.
He prefers to be fed separately from the other dog in his foster home and this will need to be continued if he is rehomed with another dog.
{"slide_to_show":"3","slide_to_scroll":"1","autoplay":"true","autoplay_speed":"3000","speed":"800","arrows":"true","dots":"false","loop":"true","centermode":"false"}