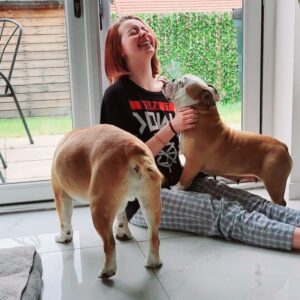 Gypsy is home!
We are very pleased to announce that Gypsy has gone home.
She has joined Dan, Nicola and their family, and she also has a new fur brother called Rocco.
Gypsy settled well and is totally in love with her human big sister, it was clear from day one, that they were going to be besties!
So huge congratulations to Dan & Nicola, we hope you have lots of fun with Gypsy and we are looking forward to seeing updates of your life together.
We want to thank foster mum Rebecca Lohoar who has been a fabulous 1st time foster mum to Gypsy thank you so much.
Nothing brings us more joy than seeing a family fall in love!
A little of Gypsy's story below,
Gypsy is a very loving, easy going, fun loving and active girl who adores being right in the thick of anything going on, in fact it's fair to call her a very nosey girl who doesn't want to miss a trick. She loves life and greets everyone with a waggy tail.
She can be bossy with Roly, her English Bulldog foster brother, and will barge him out of the way to get what she wants but he is laid-back and they have a very nice relationship.
She is great with the children in her foster home and adores being around them.
Gypsy is a good walker and she enjoys this very much but she is kept on an extending lead because if she sees someone with a football, its likely you wont see her for dust..!
She is clever and she understands commands (most of the time..!)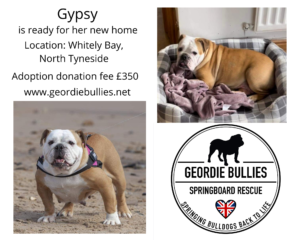 Dogs name: Gypsy
Age:  5 Years 4 Months
Can live with children:  Yes, dog savvy
Can live with dogs: Yes, sterilised friendly dogs
Can live with cats:  Untested
Current location:  Whitely Bay, North Tyneside
Things to be aware of: 
Gypsy is like a loveable overgrown puppy, she can be a bit mouthy (not in an aggressive way) when she gets excited and she is prone to the odd twerk..!! , but she understands No so the nibbling isn't a problem. She came into foster with bad skin, so she will need to remain on her current diet which is readily available.
She will also steal shoes and chew cushions given half a chance..!
Its been suggested that she may or may not require BOAS in the future by the vet. However, she, is coming up to 6 years old and we feel this can be managed without surgery.
The ideal home: 
Gypsy is a girl that thrives on being part of the action so the ideal home for her will be where she is not left for long periods and where she is actively involved in family life. She gets a bit giddy when she gets over excited so any children in the home will need to be dog savvy and obviously, any young children would need to be supervised but she loves children and being fussed by them.
Other comments: 
Gypsy has been a fabulous girl in foster, and she has won the hearts of everyone with her cheeky ways. She is living with a laid-back male dog, and this works well as he allows her to take the lead. If there was a resident dog in her new home, they must be happy to share their home and accept a bossy but beautiful bulldog into the family.
{"slide_to_show":"3","slide_to_scroll":"1","autoplay":"true","autoplay_speed":"3000","speed":"800","arrows":"true","dots":"false","loop":"true","centermode":"false"}