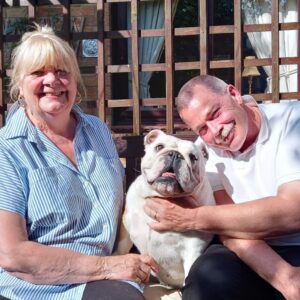 Polly is home!
Well, this little lady has really fallen on her feet with a loving family and a great garden to charge around in!
She is now part of Steve & Jan's family and as you can see, she is loving the attention she is getting, she has very quickly become the centre of their world.
Congratulations Steve & Jan, you have a beauty in Polly, we wish you all the happiness in the world.
To Polly-pops, be a good girl and have the most wonderful life. We look forward to seeing your new chapters unfold!
Thank you to Ann Hollier for being a fabulous 1st time foster mum. We know it was a bittersweet moment when Polly left but take heart that you played such an important part in her life, thank you so much.
A little of Polly's story below,
Polly is a loving girl who enjoys lots of cuddles, fuss and attention. She is quite a gentle soul, preferring to suckle on her soft toys rather than play rough or chase balls but when she wants to play, she will bark to let you know.
She can follow commands and is usually happy to go on her walks but will run and hide if the fancy takes her.
Polly can't live with other dogs in the home, but she is fine out on her walks if she meets them.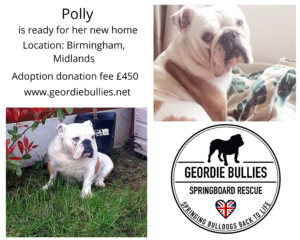 Dogs name: Polly
Age:  3 years, 8 months
Can live with children:  Yes 
Can live with dogs: No
Can live with cats:  Yes
Current location:  Northfield, Birmingham
Things to be aware of: 
Polly is nervous of sudden movements, and anything being raised up e.g. toys by the children, bin vacuum, anything really.
Polly has a grade 2 luxating patella which doesn't give her any trouble and she also has a small cherry eye that pops out when she gets excited, this is easily massaged back in.
The ideal home: 
Polly needs a calm home where she can potter about and not be put under any stress. She is a smashing girl who will make a loving companion. Children in the home will need to be dog savvy and be old enough to understand and appreciate when Polly needs her own space, and obviously, any young children will need to be supervised.
Other comments: 
Polly lives with young children at present and has started to get used to a hectic life in a large family, but loud noises and sudden movements will make her anxious so it's imperative that family members in her new home understand this. She is such a loving girl; we want to have a stress free and happy home.
The luxating Patella isn't causing any problems, however, it is essential her weight is maintained, and no impact jumping allowed so her new family will need to be mindful of this.
Polly travels well so we will consider a new home for her up to 4 hours from her current location.
{"slide_to_show":"3","slide_to_scroll":"1","autoplay":"true","autoplay_speed":"3000","speed":"800","arrows":"true","dots":"false","loop":"true","centermode":"false"}