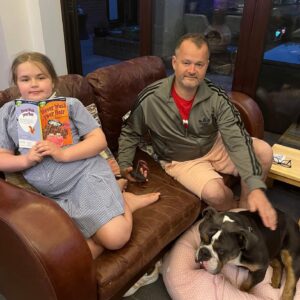 We have wonderful news!
Henry is Home!!
We are very happy to announce sweet Henry has found his loving forever home with Yvonne, Marc and their family.
Henry was collected by his new family and wasted no time in getting his new family to fall in love with his charms and his cheeky wee face.
He has settled perfectly, has been enjoying plenty of time in the garden and has become a cake thief.
Please join us in congratulating Yvonne, Marc and their family on their gorgeous new edition Henry.
We wish you all a lifetime of endless fun and happiness together and look forward to sharing the next chapter of your life, your Happily Ever After!!
Be good but most of all be happy handsome boy!
A massive thank you to Angela and John Waller on yet another amazing foster! Thank you so much for all your hard work in preparing Henry for his forever home. We are all very grateful to you.
A little of Henry's story below,
Henry is a cheeky, cuddly, playful, and loving dog who wins the hearts of everyone he meets. He is very clever and does what you want him to do while you are looking! but as soon as your back is turned, he does what he wants to do..! he is mischievous and can open doors and move anything in his way to get to what he has decided he wants.
There is no malice in Henry, and he is a fast learner when he isn't being stubborn. And he has no boundaries when it comes to sitting on anyone and everyone (including the resident dogs) if you should stay still long enough for him to park himself up.
Henry gets very excited when he knows it's time for walking, and he will pull to be in front. He is very good with meeting and greeting but would benefit from more lead training to stop the pulling.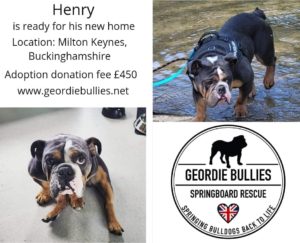 Dogs name: Henry
Age:  3 years
Can live with children:  Yes
Can live with dogs: Yes, see note below
Can live with cats:  Possibly, but will chase if the cat runs
Current location:  Milton Keynes, Bucks
Things to be aware of: 
We think Henry has previously been locked out in the garden. He doesn't like being out on his own in the dark and prefers the door to be left open during the day, the door being closed while he is outside at any time of day worries him.
Because of the Garden anxiety, Henry preferred to pee indoors when he first came into foster. His foster family have managed him very well, but he will still have the odd accident. Henrys foster mum has recently left a Blue Light on for Henry overnight and this has really helped with overnight peeing.
The ideal home: 
Henry is very playful with other dogs but because he will literally use them as a bed, we feel any resident dog will need to be at least the same size as him. He is active and he is a boy that benefits from routine.
Because of the indoor peeing, he will need a home where he is not left for long periods and where his family understand his anxiety around being left in a garden.
Henry has been great with the older children in his foster home but he will jump up and could easily overpower a child so any resident children will need to be dog savvy and obviously, any young children would need to be supervised.
Other comments: 
Henry is a fabulous little boy who has flourished in his foster home with the companionship of other dogs to help with learning where to pee and to help with anxiety.
His foster mum has worked very hard with him; he has pushed boundaries, but he is a heart-melter with his cheeky ways and will soon have his new family adoring him.
It's likely that Henry will regress a little when he is rehomed to its essential that his new family will accept and embrace this with patience and understanding. Once he starts to settle, we would expect him to carry on flourishing.
Henry will need boundaries and as mentioned, could do with some further lead training
Henry doesn't settle very well in the car and will romp about if not restrained so a travel harness or travel in the boot is essential. As Henry is an anxious traveller, we will consider a home up to 4 hours from his location on the understanding he might need a couple of pit stops on the way.
{"slide_to_show":"3","slide_to_scroll":"1","autoplay":"true","autoplay_speed":"3000","speed":"800","arrows":"true","dots":"false","loop":"true","centermode":"false"}