Maverick is a lad that prefers to do things in his own time and in his own way. He doesn't like change and is very quiet and unsure of new people. He isn't a huge cuddler but will let his foster mum brush and cuddle him now which is good progress. He is definitely coming out of his shell and starting to relax more.
He loves his walks on an extending lead and he been fine with any dogs he has met. Maverick's recall is hit and miss but he understands other commands such as sit, stay, paw etc.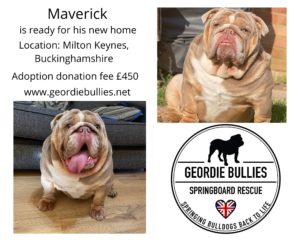 Dogs name: Maverick
Age:  2 Years 1 month
Can live with children:  Yes aged 12 years and over and dog savvy
Can live with dogs: Yes, friendly and laid back & sterilised
Can live with cats:  Untested
Current location:  Milton Keynes, Bucks
Things to be aware of: 
Maverick hates having his face cleaned and will grumble but his foster mum can advise on the technique she uses which works well and he needs him bottom cleaned after toileting.
He also gets anxious and will cry if he is closed in when left. Maverick will not cope being crated and will need the run of the house.
The ideal home: 
Maverick needs an experienced family that understand the quirks of a wilful, yet anxious English Bulldog. Any children in the home will need slow introductions and understand he will need time to adjust to his new home which will take time. Younger visiting children must be supervised.  He isn't keen being left so his new owners will ideally be around for most of the day.
We are happy for Mav to be rehomed with another dog that is used to dogs being in the home and who is friendly, laidback and playful.
Other comments: 
Maverick is a complex little lad. He will start to relax but it almost like he is an over thinker, and this can make him anxious. On writing this statement, Maverick has only been in foster for just over a month and he allows the children in the home to pet him, but he moves away if the attention is unwanted.
He has grown very attached to his foster mum so his new owners will need to be mindful that he could form a strong attachment again and this must be managed.
Maverick is an anxious traveller so we can consider a new home for him up to 4 hours from his current location as long as he has regular breaks throughout the journey.
Mavericks adoption donation fee is £450 and will need to be paid in full prior to him going home which will also be subject to a home check.  
? PLEASE READ CAREFULLY BEFORE APPLYING ?
You MUST MEET ALL the dogs' criteria, have you read the adoption criteria in full?
Complete application form
Pay your £5 subscription – see note below**
Payment reference must on the application form to cross reference. Mention if you have previously paid by Paypal or Bank Transfer if you are unable to provide a Transaction Number so we can check.
Payment method Via Enthuse using the link below. Note, we no longer use Paypal.
geordiebullies.enthuse.com/donate
UNLESS WE SEE PROOF YOU HAVE PAID; WE WILL NOT PROCESS YOUR APPLICATION AND YOU WILL NOT BE CONTACTED.
£5 per year allows you to apply for as many dogs as you wish over a 12 month period from your first application. Please mention if you have already paid by Paypal or Bank Transfer on all subsequent applications so we can cross reference.
Here is the link to the Application Form.
https://www.cognitoforms.com/GeordieBulliesSpringboard1/adoptionapplication