Hugo is described by his foster family as an outgoing curious pup. He adores attention of any type including cuddles and strokes.

Hugo wears a harness and lead when out and about, he walks slowly on his lead as his feet are slightly out turned but he is relaxed and chilled. He loves to say hello to humans and dogs while walking and is a friendly chap.
He doesn't wander far so recall is not an issue.

Hugo loves to play with toys and shows no possessiveness. He will happily leave it told to.

Hugo is very food orientated and will do anything for a tasty morsel! He can sit when told!

Hugo happily has a bath and all his cares carried out with no issue at all.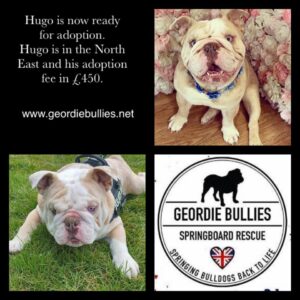 Dogs name: Hugo
Age: 11 months old
Can live with children: Yes
Can live with dogs: Yes (No Entire Males or Females – will require proof of neuter or spay of any resident dogs)
Can live with cats: May give chase!
Current location: North East (Northumberland)
Things to be aware of:
Hugo has lived in a pack of dogs quite happily in foster. Hugo will however be homed entire so any dog in the home needs to be neutered or spayed. We will need proof from your vet prior to arranging any video homechecks.
Hugo is on a raw diet and this will need to continue, full advice will be given on this. Hugo can be greedy with his food and can choke as he eats too fast, care must be taken.

Hugo is having Malaseb baths and has had mite treatment. He has also required eye surgery for diamond eye, he may require further surgery in the future which the charity would cover the cost for this. Any potential owner will need to be aware Hugo will have life long health issues with his skin and eyes and this will require ongoing vet treatment.
The ideal home:
Hugo is absolutely adorable. He is very much still a young pup and will continue to require training.
He would be best placed with other dogs in the home but as previously stipulated these must not be entire.

He can be homed with children but you must be aware that he is still very boisterous and will need supervision.
Other comments:
Hugo has been a pleasure in foster. He can be left for up to 4 hours in a day and has used a crate in foster.
As Hugo is being rehomed unneutered, we will arrange for his neuter and pay for this at 18 months old, his full adoption doesn't complete until this is carried out . It will be a condition of the adoption contract that this is completed by the new owner at a vet of our choice.
Hugo is toilet trained but hasn't traveled much. we will consider a new home for him up to 2 hours from her current location in Northumberland.
If you have any questions, please ask Lavina Bird foster mum to Hugo.
Hugo's adoption fee is £450 and will need to be paid in full prior to going home which will also be subject to a home check.
?? PLEASE READ CAREFULLY BEFORE APPLYING ??
1. Have you read the adoption criteria in full? You must meet ALL dog's criteria.
2. COMPLETE APPLICATION form and pay your £5 subscription
3. PAYMENT REFERENCE must on the application form to cross reference.
4. PAYMENT METHOD : pay via PayPal www.paypal.me/gbspringboard or
Bank transfer Sort : 09.01.28 Acc : 92014344.
?? UNLESS WE SEE PROOF YOU HAVE PAID; WE CANNOT PROCESS YOUR APPLICATION ??.
£5 per year allows you to apply for as many dogs as you wish should you not be suitable on your first Application.
To apply, please complete the application form below
https://www.cognitoforms.com/GeordieBulliesSpringboard1/adoptionapplication
{"slide_to_show":"3","slide_to_scroll":"1","autoplay":"true","autoplay_speed":"3000","speed":"800","arrows":"true","dots":"false","loop":"true","centermode":"false"}