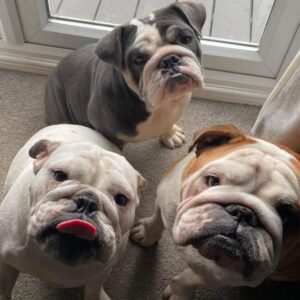 Hunter is home.
We are absolutely delighted to be able to announce that the amazing hunter is now home.
Hunter was collected yesterday by his very excited parents Jon and Nicola.
Hunter has wasted no time in getting to know his new family and is settling well with his fur bro and sis Daisy and Rosco
We would like to say a big thank you to Wayne for being an amazing foster dad to Hunter. we are truly grateful to you as always.
So without further ado please join us in congratulating Jon, Nicola and the gorgeous Daisy and Rosco on their new addition. We hope you have many happy years together.
To Hunter, enjoy your happy ever after handsome boy. We can't wait to see all the adventures of your new life with your new forever family.
Previous Adoption Statement,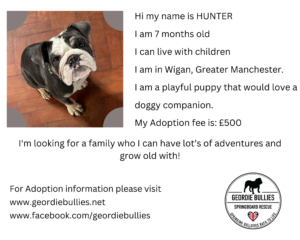 Dogs name:
Hunter
Age:
7months
Current location:
Wigan, Greater Manchester
I CAN LIVE WITH
Children:
Yes.
Cats:
Untested
Dogs:
Yes. Dog must be spayed/neutered, with no possessive or guarding behaviours.
A BIT ABOUT ME
Personality:
Hunter is a typical bouncy bulldog puppy; he is curious and sweet in nature.
Ready to learn and grow.
Behaviour:
Hunter is still very young so has all the typical puppy behaviours, very nosy but needs reassurance and a firm guiding hand to help him grow to his absolute full potential.
Needs:
Hunter needs an active family home.
A family that will keep him included in daily life and build his confidence as he grows.
Hunter will benefit from a doggy companion, to teach him the ropes and how to play.
Any children in the home must be supervised, as Hunter is a puppy and will show all typical puppy behaviours in play and has the potential to knock smaller children over if he jumps up.
Children must understand that bulldogs need time to settle in and have space to rest peacefully and uninterrupted.
Walk/exercise:
Hunter does need work out walking as he is very timid and things to make him jump and spook him. But this will all change as his confidence grows.
He walks well with company or on his own and is happy to meet new dogs and loves all the attention he attracts.
Toilet trained:
Hunter came into GBSR with a severe guardia infestation which has caused him to have the odd accident. He is much better now he has had treatment, but we would advise that Hunter will need a toileting routine whilst he learns his new environment.
Can be left:
Hunter is crate trained for during the night and if left during the day. We would recommend that this continues in his new home.
Hunter can be left for 2-3 hours at a time as he is so young still.
Travel:
Hunter travels well, with a seatbelt harness on the backseat or crated. Because of this we will accept applications of up to 4 hours away from his current location.
Things to be aware of:
Hunter will be neutered at around 18months old, and as such he will be going home on a "to be neutered" contract which will be undertaken at a vet of our choice with costs covered by the charity.
Additional information:
Hunter is an absolute sweetheart who will be a welcome addition to a loving home. This boy has melted our hearts so have no doubts that he will yours!
A little of Hunter's story below,
Please Give a Warm Welcome to the beautiful Little Hunter
Hunter is a 6month old entire male.
We received an add from one of our volunteers alerting us to poor little Hunter being given away. With him being so young we worried what would happen to him so contacted his owner.
His owner had him for less than 48hours and put him up for rehoming almost as soon as they got him. Unfortunately, this wasn't the first home to send him away it is his fifth.
Hunter was very reactive to the lady's male, and she felt she couldn't try and work through it so did the best thing for him and surrendered him to us, she couldn't bear the thought of him being passed around any further.
Hunter will be seeing our vet as he has a terribly upset tummy and a few bald patch's that we want to get checked out.
This also means that Hunter came with nothing, but his name and we have told him all about our incredible GBSR family that will want to shower him with the love he so desperately needs. We created this little one an amazon wish list that our GBSR family kindly bought for him, to show this little boy just what love is.
Huge thank you to Sarah for jumping into action and collecting Hunter until foster dad Wayne could collect him.
Hunter is now in foster with Wayne, GBSR Bleu-bell and not forgetting the fabulous Babs the pug in the North West.
Welcome to your GBSR family little one we cannot wait to see how your story unfolds.
Hunter is in foster so please do not apply to adopt him.
If you wish to follow #Hunter's journey, please pop along to our page and join our community group.
Follow Hunter https://www.facebook.com/geordiebullies
For more updates on all our dogs please join our community group
{"slide_to_show":"3","slide_to_scroll":"1","autoplay":"true","autoplay_speed":"3000","speed":"800","arrows":"true","dots":"false","loop":"true","centermode":"false"}