Lottie – Sadly crossed the rainbow bridge!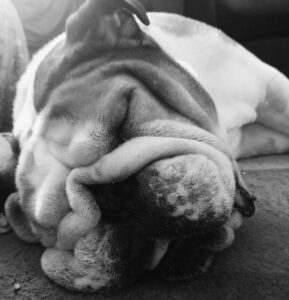 Lottie!
I have had the best days ever….
I am looking at my devastated foster mum, and l can see she can't stop crying.
Please dont cry for me…… I have had the bestest time ever, mum. I call my foster mummy Heather, my mum, because that's what she was to me….
Mum took me on a shopping trip for natural treatos… i enjoyed them so much.
I got to sleep on the big comfy sofa all tucked up snug as a bug.
I loved being on the beach Sunday, so many people came to see me, and I felt like a princess…… but I felt very tired when I got home.
I have been extremely tired every day since, so our last days together were spent snuggling together on the big sofa. I loved snuggling into you, mum. I knew I didn't have long left to soak up as much of your love to take with me.
l am still so tired. My body doesn't want to work, and it's hard for me to fight the lethargy, but my mum says it's ok, Lottie. l understands please don't worry sweetheart, I have got you baby girl.
My mum knows how tired l am, she is there with me all the time and l know she loves me, l can feel it radiate from her huge heart to mine as she strokes my head and soothes my soul with her kindness.
Mum took me to see the lovely people at the doggy surgery, and she promised me I would feel so much better after a long sleep…. As I snuggled so tightly into my mum, I slowly drifted off and started to dream….
In my dream there was a bright beam of light, and I could see a bridge and so many beautiful colours As I got closer I could see so many other babies. Their tails were wagging, and they were happily playing on the lush green grass.
Someone whispered my name… my mum was cradling me so tightly…. but the voice in my ear whispered, "dont worry, Lottie, it's time to leave," so l slipped away… very quietly……. very peacefully…..
Now l don't have any pain, but l know l have left pain in everyone's hearts because l have gone, and l am so sorry.
I know you didn't want me to go, but dry your eyes, mum….You and all the Aunties did your best to help me, but it was too late……. You see, I had been very poorly for a long time. If only the hoomans in my previous life could have loved me as much as you did…..
Thank you for giving me my very own Bucket List, l enjoyed every single moment, and l hope your memories of me will be as beautiful as my memories are of you.
Please remember me with a smile and warmth in your heart…. Thank you for all the love and everything you have all done for me. I loved everyone I met, and I hope you loved me.
I feel like a young pup again, so i am off to play in the sun and roll in the grass with all my new friends.
Until we meet again
Lottie's start to GBSR,
Please open your hearts and welcome the lovely Lottie to our GBSR family!
Lottie is a 6-year-old un-spayed female and a very sad surrender.
Unfortunately, due to the failing health of family members poor Lottie was being left at home all day.
Due to the long ours alone Lottie hasn't been being fed properly so is rather on the large side.
She hasn't been getting the care an attention she needs, she isn't in bad condition just needs some good old-fashioned TLC, a little elbow grease and a diet plan!!
Lottie is now in foster in the North East with the lovely Heather and family.
Welcome Lottie to our Springboard Family, and we look forward to seeing you flourish.
For more updates on all our dogs please join our community group
https://www.facebook.com/groups/1793138384086708/
{"slide_to_show":"3","slide_to_scroll":"1","autoplay":"true","autoplay_speed":"3000","speed":"800","arrows":"true","dots":"false","loop":"true","centermode":"false"}