Poppy is a very loving girl who enjoys lots of fuss and cuddles. She loves being around other dogs and is very sociable. She is very good with the young children in her foster home and will do as they tell her when it comes to commands, she adores be around them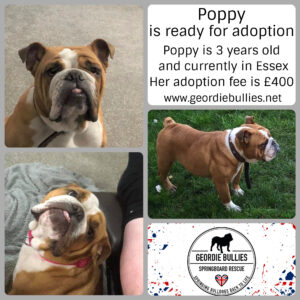 Dogs Name: Poppy
Age: 3 years old
Can live with children: Yes
Can live with dogs: Yes
Can live with cats: No
Current location: Essex
Things to be Aware of:
Poppy can be a bit possessive over toys in the home with the resident dog, so they are only allowed toys in the garden under supervision and they need to be fed separately…. And she hates the hoover..!!
Poppy is un-spayed and as such she cannot be rehomed where there is an entire male present. The charity will organise and pay for the spay one she has settled into her new home.
The Ideal Family:
Poppy has always lived with another dog, so we are looking for a home with a friendly companion for her. She also loves the children and is very good around them, so we have no age restriction on children in the home. She loves being sociable so an active home where she will be included would be perfect for her.
She will snap and run after the cats in her foster home, but they go upstairs and she has never followed, so if there is a resident cat, they will need to be very dog savvy.
Other comments:
In the words of Poppy's foster mum 'anyone will be lucky to get Poppy as she is one amazing dog, such a sweet lovely girl'.
Poppy can be left for up to 4 hours at any one time and does not need a crate. She is toilet trained and travels well so we will consider a new home for her up to 4 hours from her current location in Essex.
If you have any questions, please ask Kelly Farrow foster mum to Poppy
Poppy's adoption fee is £400 and will need to be paid in full prior to her going home which will also be subject to a home check.
?? PLEASE READ CAREFULLY BEFORE APPLYING ??
1. Have you read the adoption criteria in full? You must meet ALL dog's criteria.
2. COMPLETE APPLICATION form and pay your £5 subscription
3. PAYMENT REFERENCE must on the application form to cross reference.
4. PAYMENT METHOD : pay via PayPal www.paypal.me/gbspringboard or
Bank transfer Sort : 09.01.28 Acc : 92014344.
?? UNLESS WE SEE PROOF YOU HAVE PAID; WE CANNOT PROCESS YOUR APPLICATION ??.
£5 per year allows you to apply for as many dogs as you wish should you not be suitable on your first Application.
To apply, please complete the application form below
https://www.cognitoforms.com/GeordieBulliesSpringboard1/adoptionapplication