Lily is a bright girl who tries to please. She isn't overly playful, but she loves being around people and having cuddles. She gets very excitable when she knows its time for a walk and although she is very good walking out, her foster mum prefers to take her on her own to places where there are no distractions as Lily is relaxed and can enjoy her walk in this kind of environment.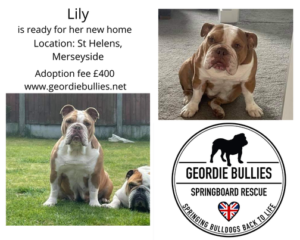 Dogs name: Lily
Age: 5 Years old
Can live with children: Aged 12 years and over
Can live with dogs: Possibly if they are very laid back.
Can live with cats: Yes
Current location: St Helens, Merseyside
Things to be aware of:
Lily suffers from separation anxiety. Her foster mum has been working on this and Lily can now be left for 1 hour without getting anxious. Her new owners will need to carry on with the gradual separation increments.
Lily is dog reactive and will pull and bark to reach them if she is on her lead. Her foster mum is working through a training programme and there has been some progress, but this training will need to be ongoing in her new home.
The ideal home:
Lily would be best suited to a home where there is someone home for a good part of the day because of her separation anxiety and an active home where Lily will be taken for 2 good walks a day.
Other comments:
Lily is a fabulous girl with lots of love to give but she comes with her issues. She can be very boisterous when out with other dogs and her recall, which is great when there are no distractions, goes out of the window.
She will jump up and try and hump people in the home, but this is slowly getting better with training.
Its going to take some time to undo all the behaviours Lily has developed without challenge over the past 3 plus years so we are looking for an exceptional home where her new owners will be 100% committed to her ongoing training.
Lily has no aggression or malice but she has been used to getting her own way for a long time so patience will be needed to help this girl adjust to more acceptable behaviour.
Lily is very very dog reactive and will make a huge fuss, barking and pulling on the lead to get to another dog.
She has never been corrected so this has been challenging to her foster mum and she is currently participating in an online training programme with help from our dog trainers at WKD.
Any potential adopters will be asked to continue this training and proof of this will be required as part of her adoption.
The WKD training will be funded by us and is done via online training videos and telephone conversations with her trainer.
We cannot stress enough how important this is as her behaviour is off putting to other people out walking hence why she is walked in quiet areas.
Lily is showing signs of improvement, but this will take time.
Lily is house trained and spayed. She is not a great lover of car journeys so we will be looking for a new home for her within a reasonable distance of her foster home.
If you have any questions, please ask Julia Scott foster mum to Lily
Lily's adoption fee is £400 and will need to be paid in full prior to her going home which will also be subject to a home check.
?? PLEASE READ CAREFULLY BEFORE APPLYING ??
1. Have you read the adoption criteria in full? You must meet ALL dog's criteria.
2. COMPLETE APPLICATION form and pay your £5 subscription
3. PAYMENT REFERENCE must on the application form to cross reference.
4. PAYMENT METHOD : pay via PayPal www.paypal.me/gbspringboard or
Bank transfer Sort : 09.01.28 Acc : 92014344.
?? UNLESS WE SEE PROOF YOU HAVE PAID; WE CANNOT PROCESS YOUR APPLICATION ??.
£5 per year allows you to apply for as many dogs as you wish should you not be suitable on your first Application.
To apply, please complete the application form below
https://www.cognitoforms.com/GeordieBulliesSpringboard1/adoptionapplication
{"slide_to_show":"3","slide_to_scroll":"1","autoplay":"true","autoplay_speed":"3000","speed":"800","arrows":"true","dots":"false","loop":"true","centermode":"false"}