Eric has been a bit of a pampered pooch who tended to get his own way, a lot..!!  His foster mum has given him boundaries which he is starting to understand. He is a bit of a sensitive gentle soul who scares easily at loud noises be that traffic or the hairdryer.
He isn't overly playful but will play tug of war but it's not rough play. He loves people and being stroked all over and wants to be near you, unless you have told him off, then he is king sulker and will take himself to his bed.
Mornings are not Erics favourite time of day, and he will drag his heels on the school run but he will happily walk later and then snooze for the rest of the day.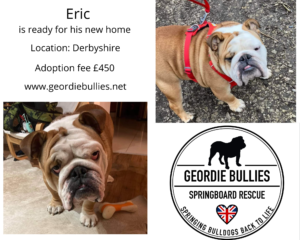 Dogs name:  Eric
 Age:  1 year 9 months
 Can live with children:  Yes
 Can live with dogs:  No
 Can live with cats:  Untested but feel he would chase
 Current location:  Derbyshire
Things to be aware of: 
Eric will need lead training. He struggles to stay either one side or the other while he is walking on a lead, but he is good off the lead and loves to meet up and play with other dogs. In his excitement to see other canine friends he might lunge on the lead, but this is not aggressive and is dealt with by his foster mum with a firm no.
He also has a tendency to jump up at people when he first meets them. This again is due to excitement and is dealt with by his foster mum with a firm no.
Eric has suffered with constipation previously so he will need to remain on the diet he is being rehomed with which is a Burns kibble and readily available in pet stores.
The ideal home: 
Eric loves children but he doesn't realise his size so supervision would be needed around young children. He wouldn't be suited to a very active family as 2 x 30-minute walks is enough for him at a slow and steady pace.
 Other comments: 
Eric has been described as a gentle giant who is very laid back by his foster mum. He is getting good with his commands, but his new family will need to understand he needs ongoing training with lead walking and with the jumping up.
He is neutered and house trained and as he travels well, we will consider a perfect home for this boy up to 4 hours from his location in Glossop, Derbyshire
If you have any questions, please ask Bekki Johnson foster mum to Eric.
 Erics adoption fee is £450 and will need to be paid in full prior to him going home which will also be subject to a home check.
?? PLEASE READ CAREFULLY BEFORE APPLYING ??

1. Have you read the adoption criteria in full?  You must meet ALL dog's criteria.
2. COMPLETE APPLICATION form and pay your £5 subscription
3. PAYMENT REFERENCE must on the application form to cross reference.
4. PAYMENT METHOD : pay via PayPal www.paypal.me/gbspringboard or
Bank transfer Sort : 09.01.28 Acc : 92014344.

?? UNLESS WE SEE PROOF YOU HAVE PAID; WE CANNOT PROCESS YOUR APPLICATION ??.

£5 per year allows you to apply for as many dogs as you wish should you not be suitable on your first Application.
To apply, please complete the application form below

https://www.cognitoforms.com/GeordieBulliesSpringboard1/adoptionapplication