Lola – Sadly crossed the Rainbow Bridge!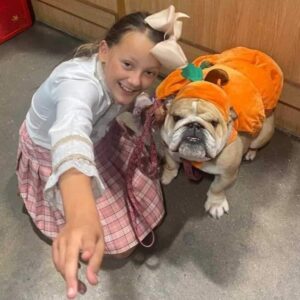 My devastated foster mum, Patricia, and my sister Sofia are crying.
Please don't cry for me…… I have had the happiest time.
I am sorry, I had to leave, I didn't want to, but it all happened so fast.
There was no time to have one last kiss with you no time to say goodbye.
You did your best racing me to the emergency vets, but it was too late my time had come, and I fell asleep with my head on my sister's lap.
I loved Sofia so much, and i missed her when she had to go to school.
My favourite time of the day was when mum took me to meet Sofia from school, and we would go to see the horses… Tinkerbelle, Tank, Teddy, and little Miss Muffet.
I would be delirious with excitement to see her. I would run and jump on her for snuggles.
I have had the happiest time with you all and my fur siblings Coco the Pug, King George, and Talulah.
I will never forget how Sofia dressed me up as a pumpkin for Halloween.  Everyone said how pumpkin-licious I looked and gave me lots of love and strokes I loved everyone I met, and I think they loved me.
Thank you for loving me and making my 6 weeks with you so special.
I didn't want to leave you, but l had to.
My last moments were spent with my favourite sister, and I couldn't have asked for more when I grew my angel wings.
 I watched you last night, and l saw your pain and tears. l am so sorry, I never wanted to hurt you.
Please dry your eyes and remember, I will be waiting here at the bridge with your gorgeous boy George the first.
He hasn't stopped smiling since I arrived. He said i was the luckiest girl to have been loved by you and to tell you he will be with you today on his 2nd anniversary of him gaining his angel wings.
When you look up into the sky tonight, look for sparkles. That will be me with George, letting you know l have made it to Rainbow Bridge.
We will wait for you i promise with all my heart, we will wait for you.
Please tell Sofia I will be laying by her feet like I have always done. Dry your tears and remember me with love in your heart and smiles on your faces.
For the 6 years you were in this world, Lola, you filled it with love and light. You made everyone that met you smile, and you filled everyone's hearts with joy.
Play hard at the bridge with George beautiful Lola, knowing how much you were loved, and one day, we will come and find you both for squidgy Lola and George snuggles.
Goodnight, sweetheart, sleep tight until we meet again.
Lola's adoption statement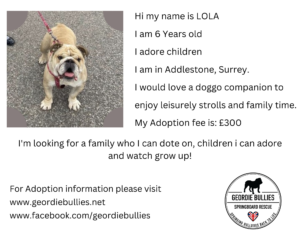 Dogs name:
Lola
Age:
6years old.
Current location:
Addlestone, Surrey.
I CAN LIVE WITH
Children:
Yes, I love children.
Cats:
Untested.
Dogs:
Yes, calm laid-back dogs.
A BIT ABOUT ME
Personality:
Lola is the sweetest most affectionate little girl, and she adores children.
She is a gentle soul preferring cuddles to rough play. Loves Toys but won't share with other dogs.
 Behaviour:
Lola is very social with other dogs and loves their company but is possessive with toys and food so must be fed separately and we advise toys kept separate too.
Needs:
Lola would suit most home environments; she is suited to an active family environment or to a more
laid-back slower pace lifestyle.
She will benefit from having a doggy companion to keep her company when her humans can't.
And a garden is a must for this girl she loves the outdoors.
Walk/exercise:
Lola enjoys gentle walks where she can take in her environment, of around 20-30mins.
Lola walks well on the lead; she walks well alone.
She hasn't been walked off lead and hasn't met any dogs whilst out on a walk, but with her sweet
nature we don't expect her to have any reactivity towards other dogs.
Toilet trained:
Yes, Lola is a very good girl.
Can be left:
Lola can be left for up to 4hours, she does well with company or will just settle herself in her bed.
Travel:
Lola travels very well, because of this we will accept applications of up to 4 hours away from her current location.
Things to be aware of:
Lola has had previous BOAS surgery, this has improved her health immensely, any potential family must understand that she is going to need a slightly slower pace to life, she does take omeprazole to reduce her reflux she has had since her surgery. This medication is over the counter and not expensive.
Additional information:
Lola is one of the sweetest little girls, she absolutely adores children and is so gentle and kind. Lola will bring so much love to any family lucky enough to give her a forever home. She is one of those once in a lifetime kind of bulldogs.  
A little of Lola's story below,
Lola is a 5-year-old entire female and what a beautiful girl she is.
One of our Admin contacted Lola's family after we were alerted to her advert.
Lola was on sale for a very low amount because the ad requires you to put an amount, but her families only concern was for Lola's welfare and ensuring she finds the right home.
Unfortunately, Lola's owners are not in the best health, her owner has recently had a stroke and was unable to walk her anymore and Lola had become a bit of a trip hazard.
A huge thank you to Mandy and Ndia for road training Lola to her foster family, we appreciate how quickly you came forward to ensure Lola had the safest journey especially during this heat.
The lovely Lola is in foster with Patricia and her family in the South East and not forgetting the very important King George and Queen Tallulah who have made sure to give Lola a royal welcome to the GBSR family.
Lola will be seeing the vet tomorrow as she isn't feeling to well and has vomited this morning.
When Lola is ready for her forever home her adoption Poster will be shared, so please keep your eyes peeled for more of Lola's updates on our rescue group.
Welcome to your GBSR family Lola, your new life starts here, and we will do everything possible to find you your happily ever after 
For more updates on all our dogs please join our community group
https://www.facebook.com/groups/1793138384086708/
{"slide_to_show":"3","slide_to_scroll":"1","autoplay":"true","autoplay_speed":"3000","speed":"800","arrows":"true","dots":"false","loop":"true","centermode":"false"}