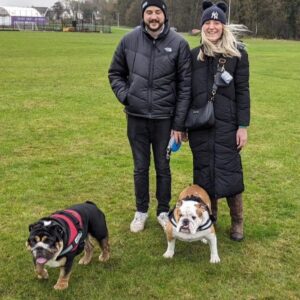 We are so happy to announce that our very cheeky boy Virgil is now home!!
Virgil was collected yesterday by his mum and dad Jenna and Ryan, who are completely smitten with him already.
He has met his new brother Hamish, and they are getting on like a house on fire, and have soon found they both love to play chase the ball.
We would like to say a massive thank you to Emma and family for another very successful foster.
We know you fell head over heels for this cheeky boy and we can't thank you enough for
preparing him for his happy ever after.
Virgil be the wonderful boy we all know, and love and you will live happily ever after.
We look forward to seeing all your antics and mischief along the way.
Please join us in congratulating Jenna and Ryan on their new boy Virgil.
We hope you have many happy years together!!
Previous adoption statement below,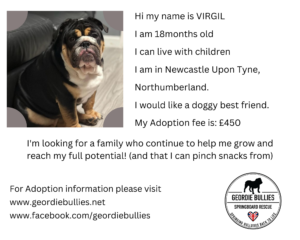 Dogs name:
Virgil
Age:
18months
Current location:
Newcastle upon Tyne, Northumberland.
I CAN LIVE WITH
Children:
Yes, I love children.
Cats:
Untested.
Dogs:
Yes
A BIT ABOUT ME
Personality:
Virgil is a Cheeky Chappy, he is sweet and loving to his humans.  His is very much a companion dog and is happiest at your side.
He has beautiful puppy brown eyes and isn't afraid to use them!
Behaviour:
Virgil is very shy to start with and needs gentle reassurance while he settles.
Virgil is still very puppy like, and he will push boundaries and use those puppy eyes to try and get his own way. He will need a family to be patient and firm with training.
He is a typically bouncy boy any young children in the home must be supervised, as he can be boisterous and has the potential to knock smaller children over.
Children must understand that bulldogs need time to settle in and have space to rest peacefully and uninterrupted.
Needs:
Virgil will suit the majority of environments; he is a fantastic young boy that needs a family confident in teaching him boundaries and to grow up with.
He will need someone at home the majority of the day, especially as he settles in.
He will benefit from a doggy companion in the home to play with and keep him company whilst his humans are away.
Walk/exercise:
Virgil does well with up to two fifteen-minute gentle walks a day. He needs slow and steady exercise to aid him in losing weight.
Unfortunately, Virgil wasn't walked often, he starts off excitable but does calm down we would advise lead training him.
Virgil loves meeting other dogs and people whilst out on a walk and walks well with company or alone.
Toilet trained:
Virgil is a very good boy we haven't had a single accident.
Can be left:
Yes, Virgil can be left for up to 4hours. He is crate trained although you do have to coax him in. Virgil needs to feel secure, so a crate works best.
Travel:
Virgil is typically an ok traveller, however when he is anxious and stressed, he does pant heavily and needs comfort and reassurance. Because of this we will be accepting applications of up to 2 hours away from his current location.
Things to be aware of:
Virgil is still heavier than we would like so his family need to continue with his diet and exercise. His weight needs to be strictly controlled to prevent Virgil needing BOAS intervention.
Any BOAS treatment would be the responsibility of his adoptive family.
Virgil will need a regular routine of bulldog husbandry, tail pocket, nose rope, ears.
Additional information:
Virgil is everything a bulldog is supposed to be, he is so loving and cheeky with the perfect hint of naughty all thrown in to keep you on your toes. He will be such a blessing to any family environment.
A little of Virgil's story below,
Please say a big hello & welcome Virgil into our GBSR family
Virgil is a 1year old entire male.
We were contacted a little over a 2weeks ago by Virgil's owner asking us for help. Due to the breakdown of their marriage and struggling with serious health condition she couldn't give Virgil the care that he needs. He was very much loved, and the handover was heart breaking.
Virgil has cherry eye that is easily massaged back into place, an infected tail pocket & a yeasty nose rope so he shall be seeing our vet as soon as possible. And he wasn't too happy when his FM said he is on the chubby side & needs to lose some weight.
Sadly, Virgil has been very stressed, & had his FM very worried with his breathing which the extra weight is not helping especially in such very warm weather.
His foster family are taking everything very slowly so not to overwhelm him.
He is the sweetest boy & very nervous but has quickly become friends with his new foster fur brother Ozzy.
It has been the perfect time to help him settle in now the children are back to school.
We were very worried his poor FM would think she was deaf once they went back to school so we sent Virgil to reassure her that she isn't coz oh boy can he snore.
Huge thank you to Dan for collecting Virgil & bringing him home to Emma & your children, not forgetting Virgil's new foster fur brother, the handsome Ozzy who is helping him settle in.
Welcome Virgil you are now & forever apart of our Geordie Bullies SprinGBoard family & on your journey to healing and happily ever after.
When he is ready for adoption, Virgil's poster will be shared across our social media and our website.
For more updates on all our dogs please join our community group
https://www.facebook.com/groups/1793138384086708/
{"slide_to_show":"3","slide_to_scroll":"1","autoplay":"true","autoplay_speed":"3000","speed":"800","arrows":"true","dots":"false","loop":"true","centermode":"false"}