Lottie is described by her foster family as an absolute sweetheart. She is a very easy going dog who is quick to learn. Lottie thrives on human attention and snuggles, she absolutely loves positive attention which is when she learns the best. Lottie's also has a cheeky playful side which is now starting to show.

Lottie uses a harness and extendable lead when it's walkies time and shows her beautiful bottom wiggle when her harness comes out.

Lottie walks well on her own or with other dogs but with other dogs she does like to be in front of them!

Lottie is still building her fitness level up as she was very poorly when she came into us and post surgery. When walking she starts fast but can wear herself out so she needs little rest stops along the way.

Lottie is non reactive to dogs both in the home and in public walking. She just sniffs and moves on.

Lottie's is very obedient and can sit, give a paw, stay and wait. She also understands no and leave. Lottie can get a little overexcited and forgets herself but that's because she is so keen to please.

Lottie loves toys and shows no possessiveness at all. She adores a good game of tug!

Lottie now loves human contact, initially she was wary which was understandable but now she loves snuggles and kisses. She also doesn't mind her cleaning routine at all, she especially needs her ears cleaning regularly.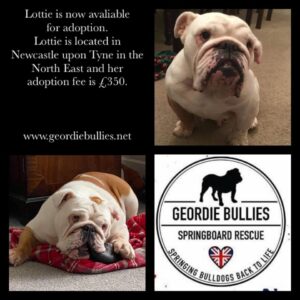 Dogs name: Lottie

Age: 5 years old

Can live with children: Yes

Can live with dogs: Yes but requires a laid back dog

Can live with cats: No

Current location: Newcastle upon Tyne

Personality:


Things to be aware of:

Lottie came to us in a very poor state from her past life. We believe she was continually attacked by the other dog in the home and probably mistreated by humans. She was very timid initially but is now beginning to come out of her shell. Awareness will need to be shown of her previous life as she will need continued time and love to help her continue to grow.
Lottie's recall in the garden is excellent but out and about not so good!! She gets very excited and wants to head off and do her own thing so her foster family walk her on an extendable lead but this will need continued training.

Lottie does love rough play but she can get so excited that she humps!! It can be very difficult to get her to stop but her foster family have been working on this. It will need more training in her forever home.
Lottie was very poorly initially and had renal stones. These were removed but because of this she will need a special diet for life. Lottie is fed Hills Prescription Diet Urinary care. Lottie has just recovered from a urine infection for which she needed antibiotics.

Lottie is a typical bully and dislikes the vacuum cleaner with a passion!!!

Lottie is not great with cats and gives chase! We feel a cat free home is safest going forward.

The ideal home:

Lottie will be such an amazing addition to any home. She is just a sweetheart who is now loving life and all it has to offer!

Lottie can live with another dog but, due to her history, it would need to be a laid back dog so she can relax in her home.

Lottie has lived with a small child in foster without any issues but now she is feeling better she can get over excited and humpy so dog savvy children would be best.

Lottie loves human company's so someone who is around a lot of the day would be best suited.

Other comments:

Lottie is such a gorgeous girl and has been a pleasure while in foster. She doesn't use a crate but has her bed in the kitchen where she settles well.

Lottie is mostly toilet trained, she can have accidents in her bed but this maybe due to her previous issues and her urine infections. She usually barks at the door when she needs to go out to relieve herself. She travels well, we will consider a new home for her up to 4 hours from her current location in Newcastle Upon Tyne.

If you have any questions, please ask Michelle Cathcart foster mum to Lottie.

Lottie's adoption fee is £350 and will need to be paid in full prior to going home which will also be subject to a home check.


PLEASE READ CAREFULLY BEFORE APPLYING


1. Have you read the adoption criteria in full? You must meet ALL dog's criteria.
2. COMPLETE APPLICATION form and pay your £5 subscription
3. PAYMENT REFERENCE must on the application form to cross reference.
4. PAYMENT METHOD : pay via PayPal www.paypal.me/gbspringboard or
Bank transfer Sort : 09.01.28 Acc : 92014344.


UNLESS WE SEE PROOF YOU HAVE PAID; WE CANNOT PROCESS YOUR APPLICATION
.

£5 per year allows you to apply for as many dogs as you wish should you not be suitable on your first Application.
To apply, please complete the application form below

https://www.cognitoforms.com/GeordieB…/adoptionapplication
{"slide_to_show":"3","slide_to_scroll":"1","autoplay":"true","autoplay_speed":"3000","speed":"800","arrows":"true","dots":"false","loop":"true","centermode":"false"}