Bella & Mr Beefy – Now Adopted
Bella and Mr Beefy are described by their foster family as a gorgeous pair who are strongly bonded.
Bella is high energy and very protective of Beefy and Beefy, on the other hand, is a laid back gentle giant and at 40kgs a giant describes him well!!!!
Bella and Mr Beefy enjoy walking very much and both wear harnesses when going out. They walk well both on and off lead though Bella can pull a little on lead. Generally they have good recall and stay fairly close but if they do see another dog they can charge.
Beefy likes to give a friendly sniff but Bella is more pushy and is protective of Beefy so awareness must be shown.
Both Bella and Mr Beefy can follow basic commands such sit and leave but Bella can become impatient and can try help herself to treats!!!
Both dogs love toys to play with and play nicely together but Bella can be quite destructive and will chew until the toys are well and truly destroyed!
Bella can tease Beefy and remove his toys and he will quite happily let her for a peaceful life!
Both Bella and Beefy dislike baths and cleaning routines but they love being brushed. Both dogs enjoy attention and human snuggles but they can be competitive for attention and will push to get their fair share.
Dogs
name: Bella and Mr Beefy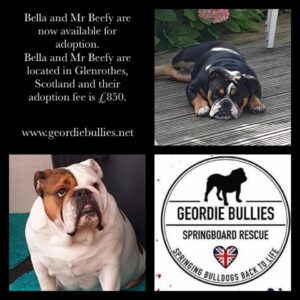 Age: Bella is 2 and Mr Beefy is 4
Can live with children: Yes
Current location: Glenrothes, Scotland.
This gorgeous pair are adorable and well bonded but with that comes a few issues.
Bella is very over protective of Mr Beefy and she can be dominant over him and any dogs who approach him. She will try to overpower another dog and can snap if allowed. This will require continued training and boundaries to ensure Bella knows this isn't acceptable.
Mr Beefy is a big gentle fellow but is in need of losing some weight to ensure his health in the future so he is having his food restricted and this will need to continue.
He also needs continued gentle exercise to aid his weight loss.
Typical of a lot of bulldogs Mr Beefy is not a fab of loud noises and neither dog really likes the vacuum cleaner, mop or rake.
Bella and Mr Beefy are going to make a fantastic addition to any family. They are lovely dogs with a strong connection whom crave routine. They have previously lived with young children with no issues at all.
Bella and Mr Beefy have lived with a dog in foster but due to Bella being quite overprotective we feel it would be better to home them as a pair with no other dogs in the home.
Bella and Mr beefy love their walks so an active family who show awareness of Mr Beefy needing time lose weight.
This pair have been a pleasure in foster and will make a fantastic addition to any family.
They do not need crating and are currently left in the kitchen overnight or if out.
Bella is spayed and Mr Beefy is neutered.
Bella and Beefy are toilet trained and travel well, we will consider a new home for them up to 4 hours from their current location in Glenrothes, Scotland.
If you have any questions, please ask Alison Gracey foster mum to Bella and Mr Beefy. Bella and Mr Beefy's joint adoption fee is £850 and will need to be paid in full prior to going home which will also be subject to a home check.
🚨
🚨
PLEASE READ CAREFULLY BEFORE APPLYING
🚨
🚨
1. Have you read the adoption criteria in full? You must meet ALL dog's criteria.
2. COMPLETE APPLICATION form and pay your £5 subscription
3. PAYMENT REFERENCE must on the application form to cross reference.
4. PAYMENT METHOD : pay via PayPal www.paypal.me/gbspringboard or Bank transfer Sort : 09.01.28 Acc : 92014344.
🚨
🚨
UNLESS WE SEE PROOF YOU HAVE PAID; WE CANNOT PROCESS YOUR APPLICATION
🚨
🚨
. £5 per year allows you to apply for as many dogs as you wish should you not be suitable on your first Application.
To apply, please complete the application form below https://www.cognitoforms.com/GeordieBulliesSpringboard1/adoptionapplication
{"slide_to_show":"3","slide_to_scroll":"1","autoplay":"true","autoplay_speed":"3000","speed":"800","arrows":"true","dots":"false","loop":"true","centermode":"false"}