If you would like to apply for Macie, please follow the link below and complete the application form but before you do that, please read the adoption statement.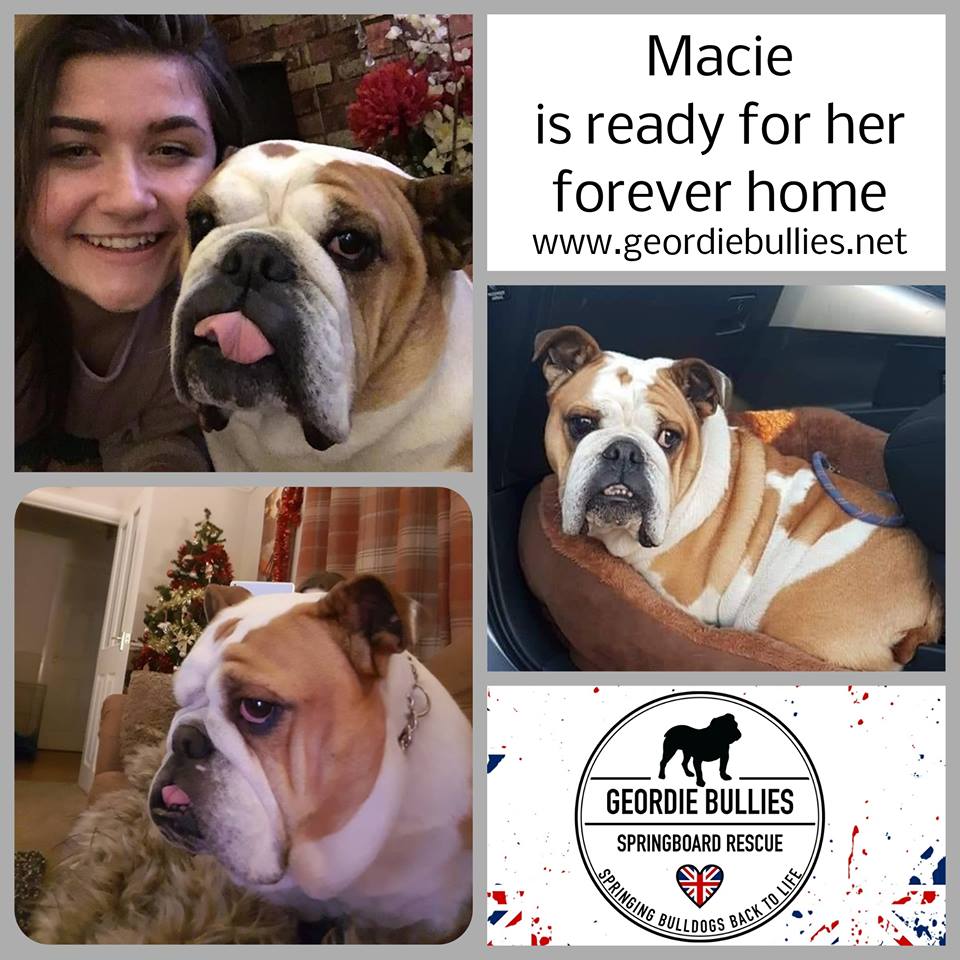 Name: Macie
Age: She has just turned 9
Can be homed with children: Yes, with children 8 years and over
Can be homed with other dogs: Yes
Can be homed with cats: Yes
Current Location: Midlands
Personality:
Macie is a dear old girl, who like many Bulldogs, likes to be a little stubborn. She sometimes needs encouragement to engage but she likes being stroked and having a little cuddle. She is a bit cheeky and will bark to remind you its time for her dinner!
She is very good on her walks with other dogs and people and ignores the resident cat.
Things to be Aware of:
Macie has an existing shoulder condition that causes her some discomfort. She is on Metacam daily for pain relief and the cost of this will be covered by us. She is also startled by loud noises.
She is good with resident dogs if they are not too vocal as barking is unsettling for her
The Ideal Family:
Macie needs a calm, loving home where she can mooch about at her own pace and do her own thing. She only needs a 30-minute walk once a day because of her shoulder condition.
She doesn't like being left, so ideally, time left alone will be very limited.
Other comments:
Our Golden Oldie needs her forever sofa, somewhere warm and safe where she will be doted on, played with, loved and spoiled. As you can see, she doesn't need much, just comfort with short walks, cuddles and lots of company.
In the car she will happily sleep so we are looking for a home within 4 hours of her current location.
If you have any questions, please ask her foster, Emma Ratcliffe
Her adoption fee is £200 and will need to be paid in full prior to her going home which will also be subject to a home check.
If you feel you can offer the perfect home to Macie, then please complete our application form via the link below
Please note, if you don't meet Macie's criteria you won't be considered to adopt her.
https://www.cognitoforms.com/GeordieBulliesSpringboard1/adoptionapplication