Maddie – Sadly crossed the Rainbow Bridge!
Maddie's sadly crossed the Rainbow Bridge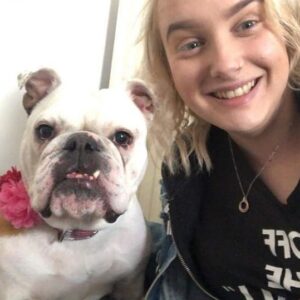 Maddie sadly crossed the Rainbow Bridge. After living her best life with her forever family!
Maddie came into foster with GBSR in June 2018.
She was a complex anxious little girl that had spent way too much of her life in a crate in the kitchen.
She was collected by Julie Reeve but couldn't settle so after a few days she went into foster with Karen Dixon.
Maddie soon found her feet and her bark, and she settled into family life with the resident bitch.
She hadn't been socialised very well and didn't know how to play with toys. She had spent so much time in her crate, rather than get up she would just spin around on the floor.
Karen worked on socialising and boundaries and after her spay she was ready for her new home.
Maddie was adopted by Ana-Marie Aloy and she enjoyed life with her new fur brother Jackson. Maddie needed BOAS surgery and after her recovery she started to get very jealous of Jackson and started to dominate and bully him.
Sadly, it was decided that Maddie needed a dog free home, enter Char Lou
Char adopted Maddie, now called Maggie and it was love at 1st sight for both of them.
Maggie has flourished now she doesn't share her owner and its heart swelling to see how well she has done. we love happy endings.
Thank you to Julie & Karen for starting Maggie's journey, to Ana who saw Maggie through her BOAS surgery and to Char who has given Maggie what she yearned for .. a home forever
If you would like to apply for Maddie, please follow the link at the bottom of the page and complete the application form but before you do that, please read the adoption statement.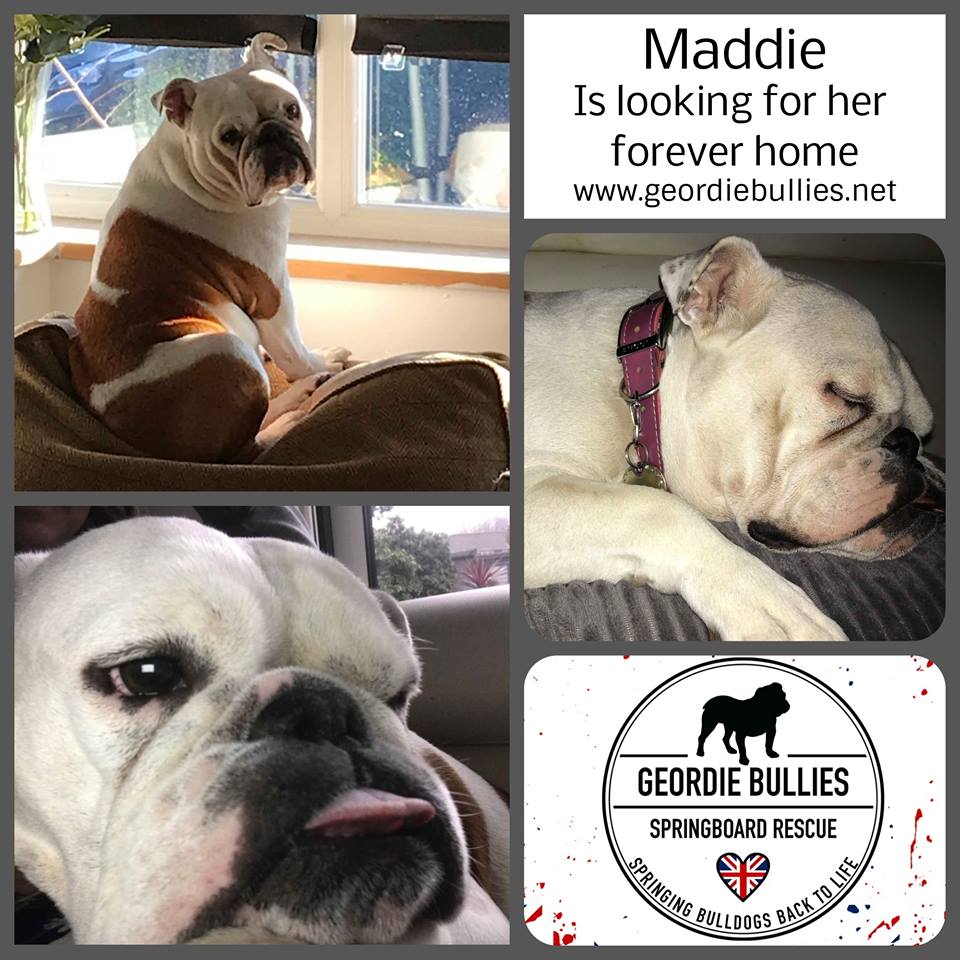 Name: Maddie
Age: 4
Can live with children: Yes, over 12
Can live with dogs: No
Can live with cats: Untested
Current Location: Midlands
Personality:
Maddie is a complex little dog who prefers being in a calm home environment. She is very loving and adores cuddles, belly rubs and strokes, and she is very bright and eager to please. Maddie loves her walks and whilst she displays anxiety when she sees her lead, she soon settles down once she is out. She loves routine, new experiences can make her anxious. She doesn't like to play rough and prefers to lay down with a chew or snuggle into her teddy.
Things to be Aware of:
Maddie prefers all the love and attention to herself, she doesn't like sharing and because of this, she will need to be an 'only dog'
Because of her anxiety, Maddie will grab at the lead when you first put it on. Her mum has tried hard to break this habit and there has been progress, but ongoing training is required
The Ideal Family:
Maddie loves a calm environment where she can potter around and, play and sleep. She is quite an anxious girl but responds well to routine. She will be happy with someone around for company and cuddles for most of the day but she can be left for up to 4 hours.
Other comments:
Maddie is a very loving and quirky girl. She is happy and calm being at home, but she finds new places quite stressful. She can become stressed in the car so her new home can't be more than 2 hours from her current location.
{"slide_to_show":"3","slide_to_scroll":"1","autoplay":"true","autoplay_speed":"3000","speed":"800","arrows":"true","dots":"false","loop":"true","centermode":"false"}