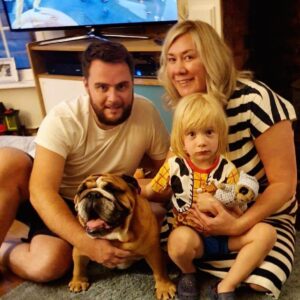 Maggie is Home
We are absolutely overjoyed to announce Maggie is now home!
Maggie is settling in well with her new family Sarah and Kevin She is enjoying being a huge part of their family and is very much being loved and adored!
So please join us in congratulating Sarah and Kevin on their gorgeous new addition Maggie, we wish you all the love and happiness that a wonderful bulldog brings!
To Maggie have the very best of life sweet girl, enjoy and cherish your new family x
A massive thank you to Trish on another fabulous foster. You have done an amazing job loving and caring for Maggie and preparing her for her forever home. We know it was a bittersweet moment for you seeing Maggie safely off, but we are very grateful to you for everything.
A little of Maggie's story below,
Maggie is a fabulous, calm, well-adjusted little girl who loves snuggles & cuddles with her humans. She shares her foster home with 3 other dogs, a cat and children and has got on famously. There is no aggression in Maggie, so feed time presents no problems, and she is happy to meet other dogs both in the home and outside.
She is great with commands, isn't overly playful with toys, and she like to sleep (and snore) a lot.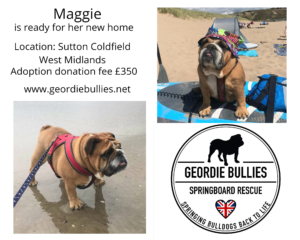 Dogs name: Maggie
Age:  5 Years 9 months
Can live with children: Yes
Can live with dogs: Yes
Can live with cats:  Yes
Current location:  Sutton Coldfield, West Midlands
Things to be aware of: 
Maggie has had luxating patella surgery in May this year. She has been on strict rest during her recovery and the surgery has been successful and requires no further intervention. She does however have a weakened cruciate ligament. Because of this and the patella surgery, Maggie will need anti-inflammatory meds and a good joint support daily for the rest of her life to help her with this
 The ideal home: 
Maggie loves being in company, so we are looking for a home where there are people around for a good part of the day. She has been fabulous with other dogs so we are happy for her to have a canine friend that will happily share its home.
Because of her surgery and cruciate injury, Maggie cannot walk long distances and stairs and steps should be avoided if possible.
She has been great with the children in her foster home so she can be rehomed with children, but obviously younger children would need to be supervised
 Other comments: 
Maggie has been a dream in foster. She is a very loving and happy little girl. Her new family must be fully committed to providing the joint support and meds she needs and understand her limitations regarding stairs, jumping up onto furniture and long distance walking.
She will make a smashing addition to any family.