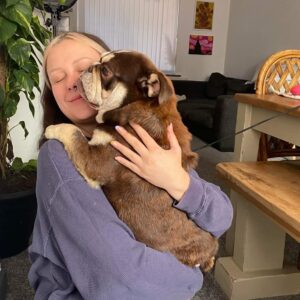 Pretzel is home!
We are very pleased to announce that our gorgeous girl Pretzel, has gone home.
She is now living with Ellen, Lynsay, their daughter and her new BFF 14-month-old Bagel.
Pretzel has wasted no time getting to know everyone and took no time at all training everyone how to be her servants. It's really no surprise that the whole family adore her already.
So please join us in congratulating Ellen & Lynsay and we are looking forward to seeing your new adventures with the gorgeous Pretzel and her boyfriend Bagel.
To Pretzel have an incredible life sweetheart, continue to love everyone with that big beautiful bulldog heart of yours.
A huge thank you to Louise Toon, who has done a fabulous job managing Pretzels aftercare from her eye operation. Thank you so much.
A little of Pretzel's story below,
Pretzel had been brought 3 prior to coming into the care of GBSR, when her owner originally went to buy her sister but seeing the girls were under weight and in poor living conditions she decided to take them both.
Pretzel and her sister's relationship deteriorated quickly, with poor Pretzel being unable to defend or stick up for herself. Her new owner contacted us to help, as she wanted to keep her safe and find her a forever home.
Unfortunately her owner was right to be concerned with the condition the girls were in, so we were happy to step in and help. Pretzel's condition was enough to crack the hardest of hearts, and she had an extremely sore looking cherry eye, which would need an operation to repair it and she would be spayed before she could be rehomed.
Pretzel was in foster with Louise in the midlands, she was very nervous of everything around her. It was obvious she had never been in a home environment.
Pretzel was booked into our vet straight away and we started her on eyedrops to help the inflammation and pain and building her body condition. Getting her ready for her cherry eye surgery and spay.
Surgery day came and she did really well, but her eye became really inflamed no matter what we or the vet tried and poor Pretzel ended up developing a full thickness eye ulcer. We were so scared she would loose her eye. But we would never give up trying first.
Pretzel never gave up either, every day she got stronger. Her battle to get well wasn't easy good days and bad. She was adopted but we had to postpone because of her eye. But this story has a happy ever after and Pretzel has her furever home!
These are the stories that make what we do, all our heart ache and sadness worth it!
Well done GBSR team and well done Pretzel!
Pretzel is an adorable playful young girl who is cheeky and mischievous. She is very cuddly, and she adores all human contact and her very laid-back foster fur sister, Pixie.
Pretzel is great with the children in her foster home, although she has been known to pinch food from the younger children if its within reach.
She is a happy walker but only in the company of her fur sister Pixie who gives her confidence, otherwise she isn't keen at all.
Pretzel now understands commands such as Sit, Bed, Down and Wee wee's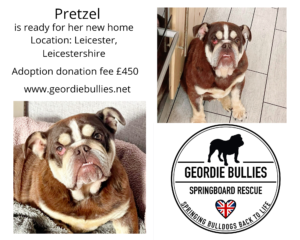 Dogs name: Pretzel
Age: 18 Months
Can live with children: Yes
Can live with dogs: Yes, must be sterilised and be happy to share their home with another dog
Can live with cats: Yes and other furries
Current location: Leicester, Leicestershire
Things to be aware of:
Pretzel has had a cherry eye repair whilst with us which requires no further treatment.
She is still very puppyish and as such will chew on things she shouldn't, so she is crated when her foster mum needs to go out.
Pretzel is toilet trained but needs to be reminded to go out with the command Wee Wee's.
Whilst Pretzel is now clean during the day, she will still have accidents in the crate overnight.
The ideal home:
Pretzel is a special little girl that needs a home where she will not be left for long periods and where she will be included in daily life.
She is fabulous with children (apart from being a food thief), and she would benefit from having a friendly laid back fur sibling that will show her not to be so scared. Any resident dog must be sterilised and be friendly with other dogs coming in the home.
Other comments:
Pretzel was taken into our care after a dog in her former home kept attacking her. Pretzel never fought back, and she was withdrawn and timid when she first came into foster.
Her foster mum, Louise, has watched her flourish into a cheeky, happy girl who loves being around the family and her fur sibling. She is still puppyish as mentioned above so her new family must instil boundaries to make sure she carries on with her good manners and behaviour.
Everyone who meets her falls in love, and we know her foster mum will be very sad to see this little girl go.
Pretzel travels well so we will consider a new home for her up to 4 hours from her current location in the Midlands.
{"slide_to_show":"3","slide_to_scroll":"1","autoplay":"true","autoplay_speed":"3000","speed":"800","arrows":"true","dots":"false","loop":"true","centermode":"false"}