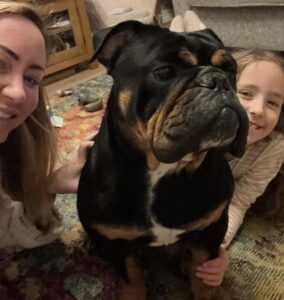 We absolutely love a failed foster!!
We are completely over the moon to announce that the Beautiful Marnie is home, and she hasn't even moved!!
Marnie has made a massive impact on her foster family that they are all completely smitten.
And who could blame them with those perfect puppy dog eyes.
Sadly Marnie didn't get the interest we thought she would so we were all delighted when her Foster Mum Becky asked if her and family could adopt Marnie and of course we said yes.
Becky and her family are truly dedicated to GBSR so we couldn't think of anyone more perfect for Marnie.
So please join us congratulating Becky and her beautiful family on their new girl Marnie.
We all wish you many years of happiness together.
To Marnie, you really have landed on your feet, be a good girl sweetheart and enjoy your happy ever after!
We all look forward to seeing you thrive in your very own forever family!
Previous adoption statement.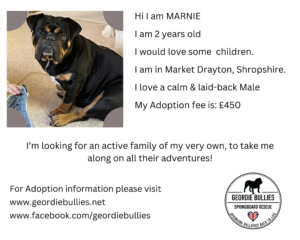 Dogs name:
Marnie
Age:
2 years old.
Current location:
Market Drayton, Shropshire.
I CAN LIVE WITH
Children:
Yes, I love children.
Cats:
No.
Dogs:
No.
A BIT ABOUT ME
Personality:
Marnie is the sweetest most lovable little girl.
She is calm and affectionate with her humans and will spend her day following you and taking all opportunities for cuddles and fuss.
She truly is the ultimate companion dog, the forever friend that is always there at your side.
Behaviour:
Marnie is very calm around children and has the gentlest of natures.
Marnie does like to play and enjoys an occasional game of tug but isn't boisterous.
She is frightened by loud sudden noises and will cower. This is improving as her confidence grows.
Marnie hasn't been socialised very well with other dog's and she will need consistent training to help her anxiety around them.
Needs:
Marnie needs an active family home, preferably with someone home the majority of the day.
A confident owner who can continue on her training journey and help her reach her full potential.
A family that will keep her involved in all that is family life and take her along on their adventures.
A garden is a must for Miss Marnie as she does love a good zoomie!
Walk/exercise:
Marnie does sometimes get a little nervous when putting harness on but is fine once she hears a reassuring word.
Marnie loves her walks and walks very well; she can pull a little if she gets excited.
Marnie is anxious when meeting dogs she either presents as very submissive and cowers watching from a distance or there has been the rare occasion that she has wanted to sniff them but then can get overwhelmed and nip.
This will improve as she continues to grow in confidence and with consistent training.
Toilet trained:
Marnie is a good girl, she may have a little accident initially, but will soon understand her new routine.
She may on an occasion have a little accident if over excited.
Can be left:
Marnie will use those puppy eyes to stop you, but she can be left for up to 4hours. All she needs is somewhere snuggly to sleep, water to drink and some toys to keep her occupied.
Travel:
Marnie is an anxious traveller and will need someone to sit with her and reassure her. Because of this we will accept applications of no more than 2 hours from her current location.
Things to be aware of:
Marnie has a bi-lateral ear infection currently she is being treated for.
She has a brown fleck to her left eye that the vet is not currently concerned with but advised to monitor.
Marnie is due to be spayed but if she is adopted prior to her spay date she will be going home on a 'to be spayed' contract which will be undertaken at a vet of our choice with costs covered by the charity.
Marnie will need continued training to grow her confidence whilst out walking, she hasn't a malicious bone in her body, and not aggressive but she is just anxious and not sure how to approach other dogs.
Additional information:
Marnie took no time at all stealing the hearts of many, especially her foster family and our admin team. She will make the perfect family pet and be the ultimate best friend by your side as your family grows. Any one lucky enough to adopt her will truly have gained themselves an absolute treasure.
Marnie's adoption donation fee is £450 and will need to be paid in full prior to her going home which will also be subject to a home check.
**Every dog rehomed by GBSR receives Rescue Back-up for their whole Life. And the admin team are available for advice and support for the whole of that dog's lifetime via Messenger, therefore the successful applicant will need to have an active Facebook and Messenger account for the life of the dog. If you cannot agree to this, please don't apply**
🚨 PLEASE READ CAREFULLY BEFORE APPLYING 🚨
You MUST MEET ALL the dogs' criteria, have you read the adoption criteria in full?
COMPLETE APPLICATION FORM
PAY YOUR £5 SUBSCRIPTION – SEE NOTE BELOW*
PAYMENT REFERENCE must on the application form to cross reference. Mention if you have paid by Paypal or Bank Transfer if you are unable to provide a Transaction Number so we can check.
PAYMENT METHOD Via Enthuse using the link below.
https://geordiebullies.enthuse.com/donate
Note:
UNLESS WE SEE PROOF, YOU HAVE PAID; WE WILL NOT PROCESS YOUR APPLICATION AND YOU WILL NOT BE CONTACTED.
£5 per year allows you to apply for as many dogs as you wish over a 12-month period from your first application. Please mention if you have paid by PayPal or Bank Transfer on any previous applications so we can cross reference.
Below is the link to the Application Form.
https://www.cognitoforms.com/GeordieBulliesSpringboard1/adoptionapplication
A little of Marnie's story below,
Please welcome the absolutely adorable Little Marnie to our GBSR Family
Marnie is a 2year old entire female.
Unfortunately, a very sad little Marnie comes to us because she's become too much for the older dog in the home. Her family understood that Marnie would be found a home, where it is so difficult to rehome older dogs and they couldn't bear to put her through it.
Marnie is a typical young bulldog full of energy and excitement that needs a home that can give her what she needs.
Thank you, Becky and your family, for collecting Marnie and welcoming her into your home.
She has such a sad little face and has been withdrawn, it's to be expected.
But what has been a pleasure to see that Marnie has found her smile when she is with Becky's daughter.
Welcome Marnie to our Springboard Family, and we look forward to seeing you flourish.
For more updates on all our dogs please join our community group
https://www.facebook.com/groups/1793138384086708/
{"slide_to_show":"3","slide_to_scroll":"1","autoplay":"true","autoplay_speed":"3000","speed":"800","arrows":"true","dots":"false","loop":"true","centermode":"false"}