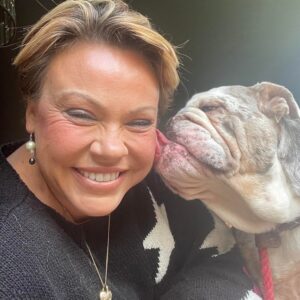 Miley is Home
As you may remember, Miley was handed in to us after a life of being caged and bred.
Miley struggled to settle in foster, so we put an urgent call out for a "foster with a view to adopt," and three weeks ago, Sherrill answered that call.
Miley is a very anxious dog and was trying to dominate by displaying unsavoury behaviour within the home, so we enrolled Miley in some training sessions to give her the best chance of being a well socialised dog and we are happy to say so far all is going very well.  Miley is a lot calmer and accepting of Sherrills other pooches, and with Sherrill being 100% committed to Miley, we couldn't think of a better home for our girl.
We would like to extend a heartfelt thank you to our fosters who tried so hard with Miley… We really appreciate all your help.
So, with no further ado, please wish Sherrill and Miley many congratulations We wish you both the happiest of lives together.
To Miley, please continue to be the good loving girl we know you are and enjoy your new beginnings, sweetheart. We are excited to see all your new adventures.
A little of Miley's story below,
Please say hello and welcome to Miley
Miley is 3 years old and is a ex breeding bitch.
We were contacted by a lady who had rescued Miley from a life of breeding which has left her very anxious
Poor Miley was used as a breeding machine and locked in a crate when she wasn't needed. She really has been let down and this has left her not used to  the big wide world and she has difficulty coping with life.
Miley was rescue from her life in a crate but unfortunately due to the hours, her new owner worked, she was sadly surrendered to us. But the damage has been done and this little girl needs a very special home with older children (16 +)and possibly a laid back canine friend to help her learn how to be a 'dog' and not everything in the world is scary.
She is now being loved and cared for by Gaz and his family in the North West
Another beautiful girl coming in to foster with absolutely nothing to call her own.
She is a complex little girl that just needs a chance so we will offer a 'foster to adopt' contract for her.
Could you be Mileys forever home? Do you have the time and patience to bring this little girl out of her shell?
Follow Miley https://www.facebook.com/geordiebullies/
{"slide_to_show":"3","slide_to_scroll":"1","autoplay":"true","autoplay_speed":"3000","speed":"800","arrows":"true","dots":"false","loop":"true","centermode":"false"}