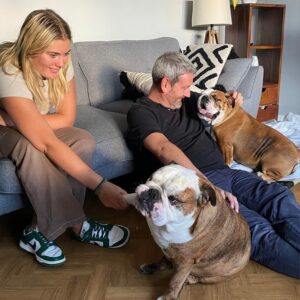 Betty is home!
Betty is now home and has a new BF in Mulligan.
Betty has had a settled 1st night with Kate family and has wasted no time in wrapping them around her paws.
So, with no further ado, please join us in congratulating Kate and her family on their beautiful girl!
Betty will be the perfect addition to your family and a BFF for Mulligan.
To Betty have the most amazing life, sweetheart, and we look forward to seeing all your adventures with Muligan.
Thank you so much to Gayle and Roy and Mr Wilson the bulldog on another fabulous first full foster. You have been amazing, and you have really helped Betty to find her furever home.
Previous adoption statement,
Betty is a beautiful young girl; She is loving and very affectionate with her 'humans' and enjoys lots of cuddles.
She has a playful nature and loves a bit of gentle rough play with her foster dad.
She likes to be kept involved with the daily ongoings inside a family home. She loves children and gets excited when her fosters grandchildren come to visit and play but will shy away if it's too loud.
Betty is a happy walker; she walks very well on her own or as part of a pack. She will happily meet unfamiliar dogs but if they sniff her bottom she will back off. Loud cars, motorbikes and lorry's can make her nervous, but she will continue walking at your side, this will continue to improve as she gains confidence.
Betty is still learning her manners 'paw, sit, stay, etc' but she has almost mastered 'sit' while in foster.
She gets on well with the resident dogs but can be dominant towards the male, although shows no aggression towards him. She loves a good game of 'bitey face' and happily shares toys but can guard any high value treats like buffalo horns.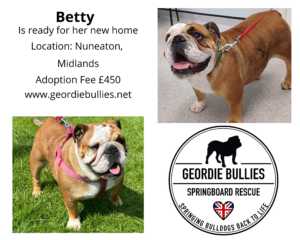 Dogs name: Betty
Age: 2 years11 months old.
Can live with children: Yes, dog savvy.
Can live with dogs: Yes, laid back dogs. 
Can live with cats: Untested.
Current location: Nuneaton, Warwickshire.
Things to be aware of: 
Betty can get a little excitable on occasion and may jump up, this has improved greatly in foster so any young children must be supervised as Betty has the potential to knock them over.
Betty has seasonal alopecia so will lose patches of fur on occasion. This is not uncommon; the hair grows back and there is no treatment required.
Betty came into GBSR with a severe ear infection, which made her ears extremely painful. As a result she will pull away from any ear cleaning or drops and she is not keen on bath time or having her tail pocket cleaned.
The ideal home: 
Betty would be best suited to a calm family home. She loves human interaction, so we prefer her not to be left for any longer than 4 hours at a time.
A family that will keep her included in daily life and take her on daily walks she manages 30min at present on cooler days.
Betty absolutely loves children, and any children in the home must understand she doesn't like loud noises shouting, but she will happily play calmly and is even happier just to snuggle. Any young children in the home must be supervised as Betty has the potential to knock them over.
If there is a resident dog in the home, they must be used to having another dog in the home and not be toy possessive.
Other comments:
Betty loves the car and travels well; because of this we will consider applications up to four hours from her current location.
Betty is a beautiful young girl just waiting for her perfect family to help her reach her full potential. She truly will make the most perfect family pet for any children to grow up loving.
A little of Betty's story below,
Please say hello and welcome to Betty!
Betty is 2.5 years old unspayed bitch!
We were contacted via our Facebook page by a lady who needed help with 2 of her bulldogs.
Due to a relationship breakdown she needed to go back to work full time.
With Betty being unspayed she didn't want to risk selling her and not being able to keep her safe. Surrendering her to us meant she would be safe and not passed around.
We also took in the other bulldog from this home keep a look out for his announcement coming soon.
Thank you to Gayle and Betty's owner for meeting to bring her into foster. She's now in foster with GB's Wilson and foster sister Fizzy. She's in foster in the midlands.
Betty has come in with some patches of missing fur which we think is due to seasonal alopecia and some skin allergies, she will be seeing our vet for a full check-up and to be spayed.
When she is ready for her forever home her adoption Poster will be shared, so please keep your eyes peeled for more Betty updates.
Welcome to your GBSR Family Betty! We cannot wait to share the next chapter of your life with you!
Or follow Blues story in our Community Rescue Group on Facebook using this link
{"slide_to_show":"3","slide_to_scroll":"1","autoplay":"true","autoplay_speed":"3000","speed":"800","arrows":"true","dots":"false","loop":"true","centermode":"false"}