Mollie – Applications Closed – Scotland
Mollie is a wonderfully loving energetic and playful bulldog. Who absolutely loves her humans and having them all to herself and has no problem telling you she wants affection and attention, by pawing and giving you a little bark.
Mollie loves a good toy, but hasn't yet mastered the "leave" command, she is a strong young female, and can be boisterous in play.
She is a typical stubborn young lady, who needs firm boundaries in the home. Mollie absolutely loves a walk and exploring but she can be reactive towards young dogs in her space. Mollie can be nervous of loud and sudden noise in the home and needs a safe space for her to escape to.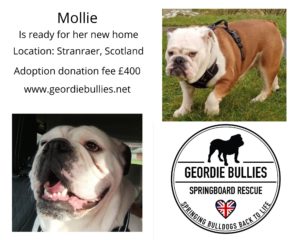 Dogs name: Mollie
Age: 4 Years old.
Can live with children: Dog savvy.
Can live with dogs: No needs to be only dog
Can live with cats: Untested.
Current location: Stranraer, Scotland. 
Things to be aware of: 
Mollie needs to be an only dog in her home, she doesn't cope well and can be reactive to dogs in her space.
Mollie can be reactive to young dogs who approach her, being in her face. She can be boisterous during play and doesn't realise her size so any young children must be supervised around her as she has the potential to knock them over unintentionally.
Any children in the home need to understand Mollies needs, of uninterrupted rest and quiet, and that her space is her own. Her foster family have worked hard building boundaries with Mollie and this training must continue in her new home for her to thrive.
The ideal home: 
Mollie needs an active family home, where she gets to enjoy long walks and being included in daily family life. A family who will continue the fosters hard work with her training. Preferably with bulldog savvy people, who can support and supervise young children as they learn about Mollie and her needs.
She needs a family that can be firm and give her the boundaries she needs to grow and mature, while giving her the love and adoration she deserves.
Other comments: 
Mollie is a fantastic young girl, who has absolutely loved being the centre of attention with her foster family. She has become a fast favourite for all of us here at GBSR and have enjoyed watching her journey with the amazing foster family she has.
Mollie deserves the world, and we won't stop until we find her perfect happily ever after.
Minnie's adoption donation fee is £400 and will need to be paid in full prior to her going home which will also be subject to a home check.
**The successful applicant will need to have an active Facebook and Messenger account for the life of the dog. If you cannot agree to this, please don't apply**
🚨 PLEASE READ CAREFULLY BEFORE APPLYING 🚨


You MUST MEET ALL the dogs' criteria, have you read the adoption criteria in full?
COMPLETE APPLICATION FORM
PAY YOUR £5 SUBSCRIPTION – SEE NOTE BELOW*
PAYMENT REFERENCE must on the application form to cross reference. Mention if you have paid by Paypal or Bank Transfer if you are unable to provide a Transaction Number so we can check. 
PAYMENT METHOD Via Enthuse using the link below.
https://geordiebullies.enthuse.com/donate
Note:
UNLESS WE SEE PROOF YOU HAVE PAID; WE WILL NOT PROCESS YOUR APPLICATION AND YOU WILL NOT BE CONTACTED.

£5 per year allows you to apply for as many dogs as you wish over a 12 month period from your first  application. Please mention if you have paid by Paypal or Bank Transfer on any previous applications so we can cross reference.Below is the link to the Application Form.

https://www.cognitoforms.com/GeordieBulliesSpringboard1/adoptionapplication