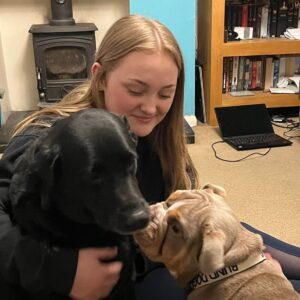 The update we have all been waiting for..
Our precious Freddie has finally found his happily ever after.
Freddie is still a baby, and sadly he came to us already being rehomed numerous times because of his blindness.
As you will have seen, Freddie has thrown us challenges and we have been taking advice on how to provide the best training and the best home for this very special boy.
Freddie has specific requirements which have changed as he has developed and grown so we have been very keen to get him settled in his very own 'forever home'.  A home that can meet and understand his ongoing special needs.
Unfortunately, poor Freddie was adopted and returned to us twice, through nobody's fault. Both families had the right intentions for Freddie, but resident dogs did not understand Freddie's behaviours causing them to react aggressively towards him.
Poor Freddie moved a few times to new fosters as we assessed his needs and after his last failed adoption, our amazing foster stepped up. Marie and her family with their super chilled dog Jet.
Freddie has settled beautifully in foster with Marie and its evident he has finally found his way home and we couldn't be happier for him.
Marie has a trainer on hand to help Freddie with the daily challenges presented to a blind puppy and he has responded very well.
The whole family are committed to Freddie and making his life as easy and comfortable as it can possibly be. Full of love and adventure, a true happily ever after!
Freddie, your days of moving are over. You now have the forever home you deserve.
You have a family that adore you and who want to ensure you reach your full potential and you have a wonderful fur sister in Jet.
Thank you, Marie, we are very grateful to you opening your heart and home to Freddie.
Have the most wonderful life gorgeous boy, and we are looking forward to following your adventures!
A little of Freddy's story below,
Freddie came to GBSR at just 12 weeks old after being deemed not fit for life by his breeder as he was having issues with his eye sight.
He is already onto his 4th home with us, after the breeder gave him away, that person didn't want him so another lady took him with the view of finding him a rescue and she contacted us.
As a rescue we couldn't turn Freddy away and we are so happy that we didn't, because this wonderful little boy has done everything to prove his GREEDER wrong. He is everything a bulldog puppy should be, and proves that he doesn't need 100% eye sight to live an amazing and happy life.
It has been an absolute joy to watch Freddy grow and learn, and we cannot wait to watch his future unfold.
Freddy is a sweet young pup, that is coping well with his partial blindness. He is every bit a typical Bulldog puppy and not letting his sight issues stand in his way.
Playful, cheeky, and mouthy with that teeny hint of naughty pup that makes him so perfect. Because of his sight issues he thrives on physical contact and affection, to help his development.
He interacts well with the children in his foster home and enjoys playtime in the garden.
He loves to play with the resident dogs and is learning boundaries through them. Freddy is quite an adventurous boy and is enjoying learning to walk on a harness.
Because of both age and sight loud and sudden noises can startle him, but with gentle reassurance he will be fine.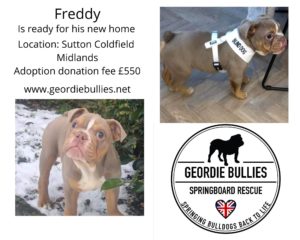 Dogs name: Freddy
Age:14 weeks
Can live with children: Dog savvy 8+
Can live with dog's: Calm Neutered/Spayed Dogs
Can live with cat's: yes dog savvy
Current location: Sutton Coldfield, Midlands                       
Things to be aware of:
Freddy can see shadows and light, so has about 25% vision.
Freddy will need an open uncluttered home, so he can manoeuvre his space easily.
He is still incredibly young so will need strict routine and training, being partially sighted will make it more difficult him. He is doing typical Bulldog puppy behaviours like mouthing, and chewing, due to his age he has not been out for walks or socialised with dogs outside of his foster home while he awaits his vaccination.
Freddy needs someone ideally to be home with him but can be left up to 4 hours in his crate on occasion.
Due to his age and sight issues any young children will need to be supervised around him. And any training started by his foster family must continue in his new home environment, to guarantee a positive development.
Freddy will be rehomed on a neuter contract at 18months at a vet of our choosing and costs covered by the charity.
The ideal home:
Freddy will benefit greatly from a calm but active family home with older children that can understand his needs. Preferably with bulldog experience/knowledge.
A calm laid back and social dog will help his confidence as he grows and matures. It is advised that you use bells on you and other dogs so Freddy can find where you are easily.
His potential family need to be aware of all it can take to take on a dog with special needs and not take this responsibility lightly and be willing to take training classes if needed.
Other comments:
Freddy has blown us all away with his lust for life and everything fun. He is an active little man who has no idea he has special needs. He has stolen the hearts of us all.
{"slide_to_show":"3","slide_to_scroll":"1","autoplay":"true","autoplay_speed":"3000","speed":"800","arrows":"true","dots":"false","loop":"true","centermode":"false"}