Mula is described by her foster family as a lovable girl who absolutely adores human contact. She adores cuddles and any sort of scratches that you may lavish upon her, bum, chin you name it and she loves it!!! Mula isn't a fan of sharing her humans in the home as she prefers all the loves to herself.
Mula wears a harness and lead to walk. She gets very excited when you start getting ready and follows you everywhere until you have everything you need! Mula likes to be infront when walking and can pull if she sees small furries or a ball being played with, she loves balls!
Mula has no issues when she sees a dog in public and will happily walk with company.
Mula hasn't been allowed off lead while on a walk as she will run off if she sees a ball or small furry. Her foster family use a 5 metre training lead so she can have freedom to run.
Mula is a clever girl and is quick to learn. She can sit and give a paw but she's a typical bully and needs a tasty treat to persuade her!!!! Mula doesn't know the commend leave yet and would definitely benefit from further training going forward.
Mula will allow you to bath her no issue but expect to get soaked! She is very generous with her shakes!!!! She is a typical bully when it comes to cleaning her folds but will allow you to do it.
Mula loves playing with toys and her absolute fave is balls! She will try a bit of rough play but she much prefers a good snuggle!!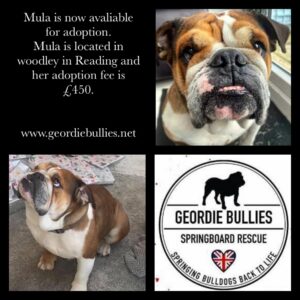 Dogs name: Mula
Age: 3
Spayed/ Neutered: No  
Can live with children: Yes
Age of children : Any
Can live with dogs: No
Can live with cats: No
Current location:  Woodley, Reading
How far can the dog travel from current location: 4 hours
Things to be aware of:  
Mula is a strong willed young lady who can be dominant with other dogs in the home, for this reason Mula will need to be placed as an only dog to ensure she is relaxed and stress free. She also isn't a fan of small furries so cannot be rehomed with these either.
Mula has been tried on various foods but has settled on a Raw diet, advice can be given around this to whomever is successful as her forever family.
Mula isn't a fan of loud noises. In foster she has learnt to manage the hoover but is still afraid of fireworks and tin foil!  Mula is also very athletic and has been known to jump stair gates if something bothers her!
Though Mula does love toys, balls are her absolute fave and she will ignore anyone when a ball is around!
The ideal home: 
Mula has come such a long way in foster and has grown over time. It really has been a pleasure to watch. She needs someone who will show commitment in continuing her fosters hard work and help her blossom into the girl we know she can be! Like all bullies she will need firm boundaries and rules and a commitment to continue training.
Mula can be homed with children of any age as she has behaved impeccably with them and only jumped in extreme excitement.
As previously mentioned Mula needs to be an only dog with all the love just for her!
Mula would really love a forever family where her humans are around a majority of the day as she loves company!
Other comments:
Mula is such an adorable girl with so much to give her new forever family. Mula does need firm rules and boundaries going forward and a family who can resist those chocolate box eyes!!!!  Mula does not require a crate and Isn't destructive at all, she just sleeps in a bed at night.
As Mula  is being rehomed unspayed, we will arrange for her spay and pay for this. It will be a condition of the adoption contract that this is completed by the new owner at a vet of our choice. 
Mula  is toilet trained and travels well, we will consider a new home for her up to 4 hours from her current location in Woodley, Reading.
If you have any questions, please ask Bev Thomas foster mum to Mula.
Mula's  adoption fee is £450 and will need to be paid in full prior to going home which will also be subject to a home check.
?? PLEASE READ CAREFULLY BEFORE APPLYING ??
Have you read the adoption criteria in full?  You must meet ALL dog's criteria. 
COMPLETE APPLICATION form and pay your £5 subscription 
PAYMENT REFERENCE must on the application form to cross reference. 
PAYMENT METHOD : pay via PayPal www.paypal.me/gbspringboard or
Bank transfer Sort : 09.01.28 Acc : 92014344. 
?? UNLESS WE SEE PROOF YOU HAVE PAID; WE CANNOT PROCESS YOUR APPLICATION ??. 
£5 per year allows you to apply for as many dogs as you wish should you not be suitable on your first Application.
To apply, please complete the application form below
https://www.cognitoforms.com/GeordieBulliesSpringboard1/adoptionapplication
{"slide_to_show":"3","slide_to_scroll":"1","autoplay":"true","autoplay_speed":"3000","speed":"800","arrows":"true","dots":"false","loop":"true","centermode":"false"}