Netti has had to deal with a lot of changes in her short life and this had left her quite timid and shy.
Her foster mum has recently taken another foster dog in (Lola), and this has really helped Netti with her confidence.
She has started to instigate playtime with Lola and she now isn't fearful on her walks when Lola is with her. They eat together (although gobble would be a better description for Netti) with no issues like aggression or resource guarding.
We don't think Netti has had much affectionate interaction in her life as she ducks when her foster mum tries to give her strokes, but she has just started to ask for fusses by giving her paw and she is growing more affectionate daily.
Netti needs some boundaries set as she will jump up and can catch a hand and she is a bit humpy. She is very food orientated and using small treats she is starting to get the hang of basic commands.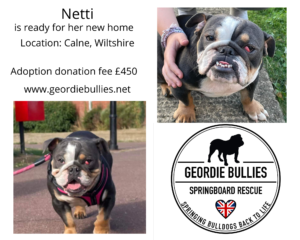 Dogs name: Netti
Age:  15 Months
Can live with children: Yes
Can live with dogs: Yes – must be sterilised
Can live with cats:  Untested
Current location:  Calne, Wiltshire
Things to be aware of: 
Netti has got double Cherry Eye. One of the glands remains exposed, the gland in the other eye is easily massaged back in, but she will require surgery to repocket them both.
She will also need to be spayed.
Both surgeries will be paid for by the charity at a vet of our choice once Netti has gone home.
The ideal home: 
Netti has benefitted massively from having another playful friendly dog in the home so we will prefer for her to be rehomed with another dog. She will jump up and hump so any children in the home will need to be dog savvy and young children supervised.
Netti doesn't ask to go out for toileting so she needs a routine where she isn't left for long periods so she can be let out.
Other comments: 
We have watched Netti flourish more and more as she relaxes. She really didn't interact very much when she first came into foster and there is no doubt Lola has helped Netti.
As mentioned, we prefer Netti is rehomed with a dog that is playful and used to other dogs coming into the home. Netti is still entire, so any resident dog will need to be sterilised.
Netti is not used to being in a car, she gets stressed and will try to run away so when she travels home, she will need regular breaks and ideally someone with her for reassurance.
Netti's adoption donation fee is £450 and will need to be paid in full prior to her going home which will also be subject to a home check.
🚨 PLEASE READ CAREFULLY BEFORE APPLYING 🚨

1. You MUST MEET ALL the dogs' criteria, have you read the adoption criteria in full? 
2. COMPLETE APPLICATION FORM
3. PAY YOUR £5 SUBSCRIPTION – SEE NOTE BELOW**
4. PAYMENT REFERENCE must on the application form to cross reference. Mention if you have paid by Paypal or Bank Transfer if you are unable to provide a Transaction Number so we can check.
5. PAYMENT METHOD Via Enthuse using the link below.
Geordie Bullies Springboard Rescue – donate

Note:
UNLESS WE SEE PROOF YOU HAVE PAID; WE WILL NOT PROCESS YOUR APPLICATION AND YOU WILL NOT BE CONTACTED.

£5 per year allows you to apply for as many dogs as you wish over a 12 month period from your first  application. Please mention if you have paid by Paypal or Bank Transfer on any previous applications so we can cross reference.

Below is the link to the Application Form.

https://www.cognitoforms.com/GeordieBulliesSpringboard1/adoptionapplication