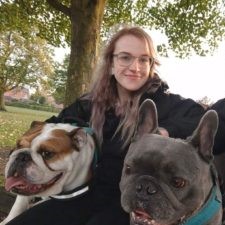 Harri is Home!
It is with great pleasure we announce Harri has found his loving forever home with Josie, Grant and Frank the French Bulldog
Harri was collected by Josie and Grant and is enjoying being a part of the family. Harri has settled into family life well and was soon enjoying gentle strolls out and about, getting to know his new surroundings. We are sure it won't be long before you're visiting pubs with your new BFF Frank.
Please join us in congratulating Josie and Grant on their gorgeous new baby boy. We wish you all a lifetime of endless fun and happiness together.
To Harri, Happy forever home darling boy, we look forward to seeing all your future adventures.
A massive thank you to Tracey Wilson on an amazing first foster. You have been a huge part of Harri's journey and we know he has worked his way into your hearts
Thank you so much for caring and loving him like your own x
A little of Harri's story below,
Harri is a big softie of a dog who is very loving and adores having fuss and cuddles. He is just learning to play with toys and shows no aggression or possessiveness with toys and the resident Frenchie.
He is very happy to meet and greet other dogs on walks and he understands basic commands although his recall is selective.
He can throw himself to the floor if he is unsure of a situation or startled by loud noises but with some coaxing he soon relaxes.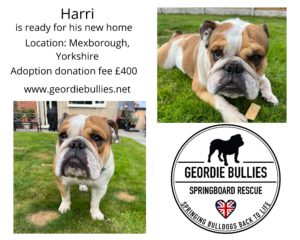 Dogs name: Harri
Age:  4 Years 1 month
Can live with children: Yes
Can live with dogs: Yes
Can live with cats:  Untested
Current location:  Mexborough, Yorkshire
Things to be aware of: 
Nothing, this boy is adorable
The ideal home: 
Any home would be fabulous for Harri. He can be around children although he jumps up for cuddles and could knock a small child over so obviously small children need to be supervised.
If there was another super friendly dog in Harri's new home that would be fabulous, but he can be rehomed as an only dog.
He is very sociable so he will need plenty of walks and interaction with other dogs and he isn't a long-distance walker, 20 minutes is fine for him.
Other comments: 
What can we say about Harri, that's he is a super little Bulldog who is well adjusted with other dogs and loves people.
He hasn't had any toys until he came into foster, and he is just learning what his new life is all about with playtime and he now does zoomies so he is starting to relax and enjoy life.
There is no doubt Harri will continue to flourish in his new forever home. He is a very lovable little lad.
{"slide_to_show":"3","slide_to_scroll":"1","autoplay":"true","autoplay_speed":"3000","speed":"800","arrows":"true","dots":"false","loop":"true","centermode":"false"}