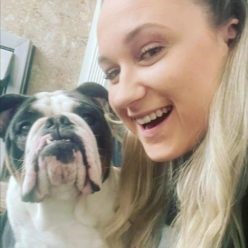 Our little Paddy Paws is Home!
A new year, a new start and a new name for Paddy as he has found his forever home!
Cooper!!
Cooper was collected and is enjoying being part of Chloe and Charlie's family. Cooper is really happy and has been doing lots of happy butt wiggles for them and he also had a lovely visit from his Nanny and Grandad who couldn't wait to meet him.
Cooper has had a settled so well and has really taken to his new family and routines.
Please join us in congratulating Chloe and Charlie on their gorgeous new boy, Cooper We wish you all a lifetime of endless fun and happiness together.
To Cooper Happy forever home darling boy, we look forward to seeing all your future adventures with your new family.
A massive thank you to Heather on another amazing foster. Thank you for all your hard work in preparing Paddy for his new family, we are forever grateful as always.
A little of Paddy's story below,
Paddy came into foster with his brother Max, with the boys both having some issues we made the decision to separate them. Paddy had unfortunately lived the majority of his short life living in a crate. As the brothers had fallen out with an older dog in the home.
Paddy is a typical young Bulldog boy who loves life and adores all human contact. He is very puppyish and playful, and he is starting to understand commands.
He can be stubborn and will lay down if he doesn't want to walk but once he gets moving, he is happy to walk and meet and greet other dogs.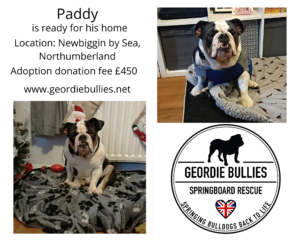 Dogs name: Paddy
 Age:  15 Months
Can live with children: Yes aged 8 and above
Can live with dogs: Yes, with a well socialised playful dog (not Labradors)
Can live with cats:  Not tested
Current location:  Newbiggin by sea, Northumberland
Things to be aware of: 
Paddy is a 'work in progress' when it comes to toilet training, and he is crated when he is left. His new owners will need to be around to instigate a toileting routine, but he may regress a little when he goes home which isn't unusual for as newly rehomed dog.
Paddy has had both Cherry eye glands removed as they were too large to repocket and he has been neutered.
The ideal home: 
Paddy is an active boy and loves being involved in family life. We feel he would benefit from a very well socialised female dog that will 'show him the ropes' and spend time paying with him.
The toileting is getting there but as mentioned, he would benefit from having someone at home to keep up the training.
Because Paddy gets excitable, we feel any children in the home will be aged at least 8 years and over and be dog savvy and any visiting children must be supervised.
As mentioned, he is still very puppy like and can get excitable so he would benefit from a calm but active home.
Other comments: 
Paddy is a lovely young boy who needs a dog savvy owner who is prepared to help him move from puppy to adult. He is not encouraged to rough play in foster as he becomes mouthy but with another dog this would be 'normal' behaviour and so we would prefer he was rehomed with another dog.
Training needs to be continued in both commands and toileting.
Paddy will make a smashing little family dog; he is loving, funny and playful. He isn't a great lover of car travel but is better if there is a passenger in the back with him.
Paddy's adoption donation fee is £450 and will need to be paid in full prior to him going home which will also be subject to a home check.
**The successful applicant will need to have an active Facebook and Messenger account for the life of the dog. If you cannot agree to this, please don't apply**
? PLEASE READ CAREFULLY BEFORE APPLYING ?
You MUST MEET ALL the dogs' criteria, have you read the adoption criteria in full?
COMPLETE APPLICATION FORM
PAY YOUR £5 SUBSCRIPTION – SEE NOTE BELOW*
PAYMENT REFERENCE must on the application form to cross reference. Mention if you have paid by Paypal or Bank Transfer if you are unable to provide a Transaction Number so we can check.
PAYMENT METHOD Via Enthuse using the link below.
https://geordiebullies.enthuse.com/donate
Note:
UNLESS WE SEE PROOF YOU HAVE PAID; WE WILL NOT PROCESS YOUR APPLICATION AND YOU WILL NOT BE CONTACTED.
£5 per year allows you to apply for as many dogs as you wish over a 12 month period from your first  application. Please mention if you have paid by Paypal or Bank Transfer on any previous applications so we can cross reference.
Below is the link to the Application Form.
https://www.cognitoforms.com/GeordieBulliesSpringboard1/adoptionapplication
{"slide_to_show":"3","slide_to_scroll":"1","autoplay":"true","autoplay_speed":"3000","speed":"800","arrows":"true","dots":"false","loop":"true","centermode":"false"}