Pearl is a lovely girl who really enjoys being around people where she can get lots of fuss and cuddles.
She isn't interested in toys, and she is happy to laze about for most of the day.
She loves being taken out and about and she will happily walk in the country for an hour.
Pearl really isn't interested in other dogs approaching her, she is very happy in her own company.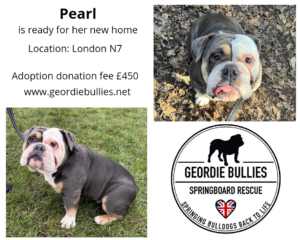 Dogs name: Pearl
Age:  2 years 3 months 
Can live with children:  Yes, dog savvy children
Can live with dogs: No
Can live with cats:  Untested
Current location:  North London
Things to be aware of: 
Pearl will pee in her bed; we are working on this and there is no reason she can't be trained out of this habit
The ideal home: 
Pearl just loves having someone around, being involved, being taken for walks and generally being part of the family so we feel her new owners would need to be quite active.
Like any typical English Bulldog, Pearl will bulldozer around the place, and she will jump up on occasion so any children in the home or visiting would need to be dog savvy and obviously young children would need to be supervised.
Pearl prefers not to share her humans so she needs to be the only dog in the home.
Other comments: 
Pearl is a smashing little girl and deserves to be the centre of someone's world. She has travelled for a mini break whilst in foster and thoroughly enjoyed herself. She is a fabulous little girl we will consider applications for her up to 4 hours from her current location.
Pearls adoption donation fee is £450 and will need to be paid in full prior to her going home which will also be subject to a home check.
🚨 PLEASE READ CAREFULLY BEFORE APPLYING 🚨

1. Have you read the adoption criteria in full?  You must meet ALL dog's criteria.
2. COMPLETE APPLICATION form and pay your £5 subscription
3. PAYMENT REFERENCE must on the application form to cross reference.
4. PAYMENT METHOD : pay via PayPal www.paypal.me/gbspringboard or
Bank transfer Sort : 09.01.28 Acc : 92014344.

🚨 UNLESS WE SEE PROOF YOU HAVE PAID; WE CANNOT PROCESS YOUR APPLICATION 🚨.

£5 per year allows you to apply for as many dogs as you wish should you not be suitable on your first Application.
To apply, please complete the application form below

https://www.cognitoforms.com/GeordieBulliesSpringboard1/adoptionapplication
Follow Pearl https://www.facebook.com/geordiebullies/