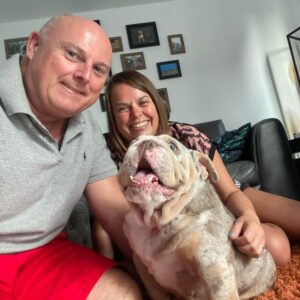 Pebbles is now home!
We are absolutely delighted to announce that our very popular girl Pebbles is now in her forever home.
Pebbles was collected yesterday and got straight to work training her new slaves Laura and Glenn who absolutely adore her already.
She has been exploring her new home and been doing a lot of bed hopping.
Pebbles had a very settled night only waking up because of new noises which she will soon get used to.
We would like to say a special thank you to Shelley for taking such good care of Pebbles and for stepping up when she was in such a poor state.
Your love and commitment to Pebbles was clear for all to see and we really can't thank you enough, we will be forever grateful.
So would you all please join us in congratulating Laura and Glenn on their beautiful new girl Pebbles.
We wish you many years of happiness together.
To Little Miss Pebbles – now your adventures begin, have the most wonderful life in your new home sweetheart and we look forward to seeing all your adventures unfold!
Previous Adoption Statement below,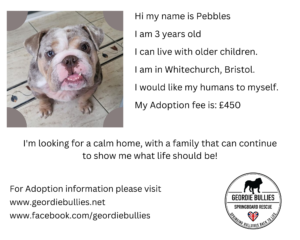 Dogs name: Pebbles
Age: 3 years old.
Current location: Whitechurch, Bristol
I CAN LIVE WITH
Children: Older, dog savvy.
Cats: No.
Dogs: No.
A BIT ABOUT ME
Personality:
Pebbles is a people pleaser; she is keen to learn and has come on so much during her time in foster.
Pebble's is super affectionate to her humans and is learning how to play.
Behaviour:
Pebbles has led a very sheltered life prior to GBSR, this has had a knock-on effect and makes her nervous and untrusting. But with continued love and gentle reassurance it doesn't take long to earn her trust. She has absolutely thrived in an open foster home, where she has been included as a family pet should be.
At the beginning of her foster journey, she was reactive towards other dogs, this was down to not being socialised at all, but once she her foster earnt her trust Pebbles was able to relax and to enjoy her walks.
Needs:
Pebbles needs a calm family environment with older children, one who will include her in daily family life and give her the life she so deserves.
She needs to stay on her current diet due to allergies.
Any young children visiting must be supervised, as Pebbles can be nervous has the potential to knock smaller children over.
Children must understand that bulldogs need time to settle in and have space to rest peacefully and uninterrupted.
Walk/exercise:
Pebbles loves her walk and is excited the moment she sees her harness.
She can be excitable and may pull towards other dogs and she may jump up at her lead but with continuing her training this will soon stop, she has already come so far.
Pebbles currently walks twice a day for 20minutes due to the warm weather, this is able to be increased as the weather cools down.
Toilet trained:
Initially Pebbles may have an accident, but as soon as she knows the environment she will go outside.
She can wet her bed during the night, as she settles and becomes more secure in her new home this should stop.
Can be left:
Pebbles is fine to be left for up to four hours, she will happily take herself off to her bed for a snooze.
Travel:
Pebbles loves a car ride, because of this we will consider applications up to four hours away.
Things to be aware of:
Pebbles has allergies so will be on Apoquel for the remainder of her life, and she must stay on her current raw diet.
Pebbles has had a rough start to life, but she is proving what an incredibly loving and amazing girl she is. Her new family must understand that she may be nervous and will need to take it very slowly with her.
Additional information:
Pebbles came to us in such a terrible and frightened state, but with a little love she has bloomed into this incredible and affectionate young girl. She will be an incredible addition to any family lucky enough to adopt her.
A little of Pebbles story below,
We were alerted by several supporters about a little dog that was in terrible condition with Demodex manage and allergies being given away on social media.
We contacted the owners who have been overwhelmed by their dogs' allergies. They have battled for many months to get her skin under control with the guidance of their vet but whatever they have done has had little or no success.
Sadly, because her skin is so sore and raw, the family have kept her away from the children which meant living in a dedicated garage room.
This little girl is 3½ years old and sadly the family had decided to end her suffering and she was due to be PTS this week if a rescue space or new home could not be found.
Pebbles joined our GBSR family.
We put a shout out to our volunteers, she needed a foster lifeline and fast as time was running out.
Shelley Ann offered to take Pebbles but that meant a road train, step in Carl Goulding and Carla Rotherham who drove the 7 hours round trip to get Pebbles to Shelley.
We are extremely grateful to you all. It was an amazing effort, and we feel privileged to have such dedicated volunteers who are willing to drop everything to help a dog.
Pebbles had a vet appointment  and got her meds started straight away. And daily baths Malaseb bath day to get her skin feeling better.
She has had a fabulous start to foster, she really is a darling girl who seeks you out for love and attention and we are all a little bit in love with her.
Her road to health will be a long one and she has come into foster with nothing, so we have put together a wish list for her on the announcement post.
So please welcome Pebbles to our Springboard Family, and we look forward to seeing you flourish.
For more updates on all our dogs please join our community group
https://www.facebook.com/groups/1793138384086708/
{"slide_to_show":"3","slide_to_scroll":"1","autoplay":"true","autoplay_speed":"3000","speed":"800","arrows":"true","dots":"false","loop":"true","centermode":"false"}