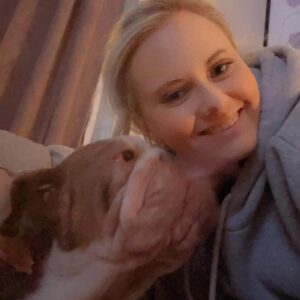 Our handsome boy is home!!
Rocco was collected by his excited mum, Charlotte, yesterday, and he has wasted no time in sniffing out his new home and wrapping Charlotte around his paws.
We would like to say a huge thank you to his lovely foster mummy, Jenny.
Rocco was Jenny's first foster, and she has been amazing with this lovely boy.
Thank you so much, Jenny, for fostering Rocco and helping him on his journey to find his forever home. We are very grateful for everything you have done for Rocco.
Please join us in congratulating Rocco and Charlotte on finding each other.
We wish you many years of love and happiness together.
To Rocco, well done, sweetie. We are so proud of you.
Be a good boy and remember everything Fm taught you.
We cannot wait to see you flourish in your new home with your mum Charlotte by your side.
Previous adoption statement below,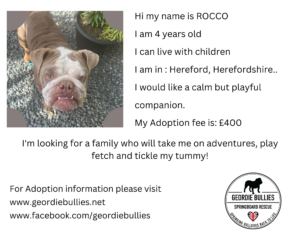 Dogs name: Rocco
Age: 4 years old.
Current location: Hereford, Herefordshire.
I CAN LIVE WITH
Children: Yes, I love children
Cats: Untested.
Dogs: Yes, calm, and laid-back dogs.
A BIT ABOUT ME
Personality:
Rocco is a laid-back boy he loves all interactions with humans and dogs any way he can get attention.
Rocco will happily shower his family with love and affection in return for plenty bum scratches.
He is playful, and cheeky with a little bit of stubborn bulldog thrown in.
Behaviour:
Rocco is a good boy, who will on occasion hump, if he thinks he's not getting enough attention.
He can get a little excited when new people come and may jump up, but he is very good when told no.
He loves to play with anyone, balls are his favourite, and he loves a good tug of war.
Needs:
Rocco needs an active family home, one where he can be included in all that is family life.
He will benefit from a calm and laid-back doggy companion to play and keep him company when his humans are away.
A garden is a must for this boy.
Walk/exercise:
Rocco walks well on a lead and doesn't pull.
He will happily walk with company or alone, and he does like to lead if in company.
Rocco loves to say hello and try to play with other dogs he meets. But if told no he is more than happy to just walk on by.
Toilet trained:
Completely house trained. He will happily tell you when he needs to go outside.
Can be left:
Rocco can be left for up to 4 hours at a time, he is happy in a secure room with a comfy bed and his toys to keep him occupied.
Travel:
Rocco loves a car ride whether you invite him or not! Because of this we will consider applications up to four hours away.
Things to be aware of:
Rocco is booked to be neutered 21.09.2023 if he is adopted before the date he will be rehomed on a "to be neutered" contract which will be undertaken at a vet of our choice with costs covered by the charity.
Rocco has food allergies must stay on his current food Royal Canine Hypoallergenic.
He came to GBSR with severe skin issues due to untreated allergies, his skin is doing incredibly well with his fur growth, he may need weekly baths to keep on top of it.
Additional information:
Rocco is an amazing boy, so full of love to give to anyone who will allow him. He will be an amazing addition to any family lucky enough to adopt him.
A little of Rocco's story below,
Please welcome Rocco into our Springboard family, he was the 4th dog surrendered over the weekend.
Rocco is a beautiful, good natured 4-year-old entire boy, who is suffering with bad skin allergies, cysts, and terrible gunky ears.
His owner reached out to us because a change in their home life meant they could no longer care for Rocco, and he was being left for long periods. We are fit to bursting but his needs meant we jumped into action to admit him.
Thank you to Jenny Keene who travelled some distance to meet Rocco's owner and bring him home. We think you are going to love your new foster baby.
Rocco has met his new fur sister Spotty, and they seem to be getting along very well and he is getting lots of loves from his new skin brother.
It has proved challenging to get Rocco registered at a vet in the area but Holmer Vets have been brilliant, and although their books were closed, they have agreed to register Rocco so he can get the help he needs to sooth his sore skin.
When he is ready for adoption, Rocco's poster will be shared on social media and our website.
Welcome Rocco you are now part of our family and on your Springboard journey!
For more updates on all our dogs please join our community group
https://www.facebook.com/groups/1793138384086708/
{"slide_to_show":"3","slide_to_scroll":"1","autoplay":"true","autoplay_speed":"3000","speed":"800","arrows":"true","dots":"false","loop":"true","centermode":"false"}