Priscilla is a lovely and loving girl who isn't massively playful but loves her soft squeaky toys and frisbee and she plays tug of war with the children in her foster home. She is well behaved, and her foster mum describes her as an adorable girl who loves a good bottom scratch and stroke all over (avoiding ears)
She is fine being walked but she has made an attachment to her foster mum, so she prefers to be taken by her, but she is encouraged to be walked with other people. She generally tolerates a quick sniff with dogs on her walks and moves on, but she will warn a dog she doesn't want it to come into her space.
Priscilla is toilet trained and prefers to ignore all commands apart from 'Go to bed'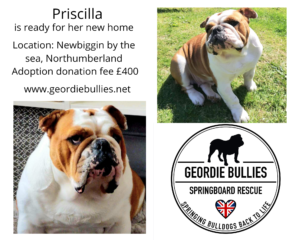 Dogs name: Priscilla
Age:  4 years 9 months
Can live with children:  Yes
Can live with dogs: Yes, friendly neutered dogs
Can live with cats:  Untested
Current location:  Newbiggin-by the sea, Northumberland
Things to be aware of: 
Priscilla doesn't like small white fluffy dogs. She has a mild cherry eye that sometimes protrudes and is managed by popping it back in. This doesn't require any corrective surgery, but she does have eye drops and an eye gel for Dry Eye which MUST be continued for the rest of her life.
Her ears tend to get dirty, so they need cleaning twice a week. She is ok cleaning around the ears but will make a dash for it if she sees the cleaning solution.
The ideal home: 
Priscilla will make a lovely family companion. She has lived with children in foster and as she can get over excited noises, any children in the home need to be old enough to know when to calm down and obviously any young children supervised.
Priscilla can be rehomed with a laid back, playful English Bulldog dog that is happy to share their home.
Other comments: 
Priscilla was being picked on by another dog in her previous home and she was very submissive. We have also noticed that she appears to be much better around English Bulldogs rather than other breeds so if there a resident dog would need to be an English Bulldog.
Priscilla's adoption donation fee is £400 and will need to be paid in full prior to her going home which will also be subject to a home check.
🚨 PLEASE READ CAREFULLY BEFORE APPLYING 🚨

1. You MUST MEET ALL the dogs' criteria, have you read the adoption criteria in full? 
COMPLETE APPLICATION FORM
PAY YOUR £5 SUBSCRIPTION – SEE NOTE BELOW**


PAYMENT REFERENCE must on the application form to cross reference. Mention if you have paid by Paypal or Bank Transfer if you are unable to provide a Transaction Number so we can check.


PAYMENT METHOD Via Enthuse using the link below.
Geordie Bullies Springboard Rescue – donate

Note:
UNLESS WE SEE PROOF YOU HAVE PAID; WE WILL NOT PROCESS YOUR APPLICATION AND YOU WILL NOT BE CONTACTED.

£5 per year allows you to apply for as many dogs as you wish over a 12 month period from your first  application. Please mention if you have paid by Paypal or Bank Transfer on any previous applications so we can cross reference.Here is the link to the Application Form.

https://www.cognitoforms.com/GeordieBulliesSpringboard1/adoptionapplication
Follow Priscilla https://www.facebook.com/geordiebullies/