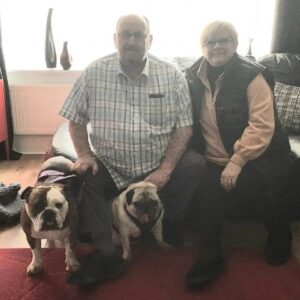 Marmalade is Home!
We are absolutely thrilled to announce that Marmalade has gone home, She was collected by  excited pawrents, John and Elaine.
Marmalade has settled very well and hasn't wasted any time in getting to know her new sister, Marley the pug Both John and Elaine cannot believe how easily Marmalade has fitted in with them, it's like she has always been there and is John's shadow.
Please join us in congratulating John and Elaine on their stunning girl Marmalade
To Miss Marmalade … now your forever adventures begin, have a wonderful life in your new home sweetheart and we look forward to seeing your new adventure.
A massive thank you to our amazing foster Dad Wayne and little Babs. You have been fantastic as always and we will be forever grateful to you.
A little of Marmalade's story below,
Marmalade first came into GBSR with her daughter Sky. She was stressed in her first foster home so we made the decision to move her. She settled amazingly with Wayne and fs Bab's the pug. It didn't take too long to find her a family and she was adopted. Unfortunately, the family's resident dog also a GBSR Willow didn't take well to having a new sister and poor Marmalade was returned to our care.
Our wonderful Marmalade is a loving and affectionate lady. She has the sweetest temperament and is independent and has the typical Bullie deaf ear at times.
She loves a good cuddle and a fuss her favourite being a good bum scratch and will go off to her own space when she has had enough. Her favourite hobby is having a good nap. She is coming around to play but can be wary.
Marmalade likes a walk and enjoying having the company of the resident dog. She shows very little interest in other dogs while out. She loves getting affection and attention from children.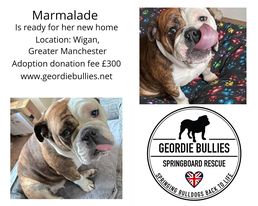 Dogs name: Marmalade
Age:  6 years old
Can live with children: Yes, dog savvy
Can live with dogs: Yes, calm and laid back spayed/neutered dogs.
Can live with cats:  Yes
Current location:  Wigan, Lancashire
Things to be aware of: 
Marmalade will bark at loud noises when out in the garden, lorries, motorbike's etc. Any young children will need supervision, and to understand that Marmalade needs her own space and uninterrupted rest and sleep. 
The ideal home: 
Marmalade would be best suited to a calm family home, where she will be included in all aspects of family life with a laid-back dog for company.
Somewhere she can enjoy quiet evenings cuddled up with her family in the warm, and gentle walks while she works off this little extra Christmas weight! 
Other comments: 
Marmalade is a beautiful lady, who deserves her happily ever after. She has such a gentle soul and enjoys the simple side of life, good company, warm bed and gentle walks.
It really doesn't take to much hard work to love her as much as we all do.   
{"slide_to_show":"3","slide_to_scroll":"1","autoplay":"true","autoplay_speed":"3000","speed":"800","arrows":"true","dots":"false","loop":"true","centermode":"false"}