Reggie – Ready for Adoption-North East
What can we tell you about this wonderful boy?
Reggie has suffered terribly with chronic infections in his eyes, nose rope and paws. We have tried every treatment possible to help him and no amount of treatment made a difference. After so many discussions with Reggie's vet, and the reality that he would almost certainly become resistant to antibiotics the decision was made for Reggie to undergo surgery to remove his nose rope, and some of the webbing in his paws. Reggie is healing beautifully and is already a much happier boy.
Reggie can be shy and it may take him a little time to show you just how charismatic he is, but with lots of love and attention he will be your ultimate bestie. Once you earn his trust you will see what a fun loving, cheeky boy he is.
And in typical bulldog fashion Reggie can be stubborn, if he doesn't want to do something he won't, but would we have our beloved bullies any other way? Reggie loves going out for walks and does pull a little, but this is getting better with training.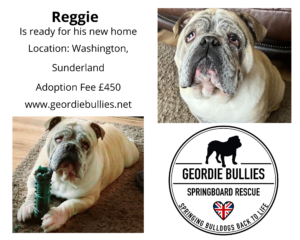 Dogs name:
Reggie
Age:
2 years old. 
Can live with children:
Yes, dog savvy.
Can live with dogs:
Yes, calm laid-back female.
Can live with cats:
Untested.
Current location:
Washington, Sunderland.
Things to be aware of:
Reggie loves meeting people and dogs out on his walks and is always inquisitive but if a dog reacts aggressively towards him, he will react in defence. This is managed with verbal commands and removing him from the other dog's space.
Reggie can on occasion toy guard.
Reggie will need ongoing eye drops and lubrication, to prevent dry eye. 
With Reggie being on the larger side of life and a little stubborn all young children must be supervised as he may have the potential to knock them over. Any training put in place by his foster family must continue in his new home.
The ideal home:
Reggie would suit a home with older dog savvy children who will understand he will need his own space and plenty of naps as well as lots of love, snuggles and strokes.
We would love to see him in an active family home, where he is included in all daily activities of a family. Reggie can be left for 3-4 hours.
Reggie would be able to live with a calm female, one who he can learn from and would keep him in line. Reggie will thrive in a family that can continue his training to ensure he reaches his full potential.    
Other comments:
To help Reggie find the best possible home we have chosen to separate him from his brother. It was a hard decision but in this current climate we believe it is what is best for the boys.
Reggie it will absolutely melt your heart the moment you meet him. No surprise really that like his brother, it took him no time at all to steal ours, and he shares quite the fan club here at GBSR with his brother.
To take Reggie home to your family will insure that your home will forever be filled with so much love and the most wonderful entertainment.
Reggie's adoption donation fee is £450 and will need to be paid in full prior to him going home which will also be subject to a home check.
**The successful applicant will need to have an active Facebook and Messenger account for the life of the dog. If you cannot agree to this, please don't apply**
? PLEASE READ CAREFULLY BEFORE APPLYING ?
You MUST MEET ALL the dogs' criteria, have you read the adoption criteria in full?
COMPLETE APPLICATION FORM
PAY YOUR £5 SUBSCRIPTION – SEE NOTE BELOW*
PAYMENT REFERENCE must on the application form to cross reference. Mention if you have paid by Paypal or Bank Transfer if you are unable to provide a Transaction Number so we can check.
PAYMENT METHOD Via Enthuse using the link below.
https://geordiebullies.enthuse.com/donate
Note:
UNLESS WE SEE PROOF YOU HAVE PAID; WE WILL NOT PROCESS YOUR APPLICATION AND YOU WILL NOT BE CONTACTED.
£5 per year allows you to apply for as many dogs as you wish over a 12 month period from your first  application. Please mention if you have paid by Paypal or Bank Transfer on any previous applications so we can cross reference.
Below is the link to the Application Form.
https://www.cognitoforms.com/GeordieBulliesSpringboard1/adoptionapplication
We have made the decision to separate our handsome brothers in hopes of finding them the very best of homes!
Some of our boys story below,
Unfortunately, not every GBSR Adoption is a happily ever after.
Our wonderful Hector and Reggie just didn't find their right fit, so have come back into foster with their very own Fairy Foster Mamma Debra and her family.
Welcome home boys where you are loved and adored, and we will work hard to find you perfect fit!!
Keep a look out for our handsome double act they will soon be ready to find the happily ever after they deserve.
Hector & Reggie, our double trouble brothers, are young, fun-loving, typical English bulldogs. The brothers love to be with you and will actively seek you out for affection. They definitely have that butter that wouldn't melt faces, we all know and love. They are both cheeky young boys with bundles of charisma. Both boys love a good toy and can guard on occasion. And they do like rough play but can get carried away. The boys will happily sit to be brushed, any activity that means them being loved and given attention, and they are happy lads. Both boys walk well on leads and will greet other dogs with excitement.
Hector & Reggie came into us due to their owner being at work for long hours and they are craving attention. Unfortunately, after a death in the family the boys were not getting the care and attention they needed. Doing what was best for the boys their owner contacted us to see if we could help. Being such young boys, their needs weren't being met like they needed.
Follow Reggie https://www.facebook.com/geordiebullies/
{"slide_to_show":"3","slide_to_scroll":"1","autoplay":"true","autoplay_speed":"3000","speed":"800","arrows":"true","dots":"false","loop":"true","centermode":"false"}