Ronnie is a lovely boy who thinks nothing if blocking the way of people out walking so he gets a few strokes. He is cheeky and will run off with things he knows he shouldn't have i.e. slippers & shoes but it all a big game to Ronnie. He is very loving and enjoys lots of belly rubs, kisses, and petting.
As the playful boy he is, he enjoys his toys, balls and tug of war and he loves his soft toys to nuzzle on.
He walks great on a lead and is very happy around other dogs and is starting to learn commands.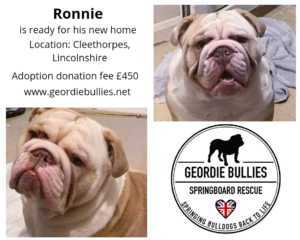 Dogs name:  Ronnie
Age:  1 year 9 months   
Can live with children:  Yes aged 12 years and over
Can live with dogs: Yes – friendly female dog
Can live with cats:  Untested
Current location:  Cleethorpes, Lincolnshire
Things to be aware of: 
Ronnie needs a toilet routine as he doesn't know how to ask to go out. His foster family have a routine which works but he still has the odd accident overnight.
Ronnie is quite excitable and will try and hump and nibble on occasion. His foster family have used a water spray to deter this behaviour and now, as soon as he see the spray, he understands to stop.
He suffers from mild food allergies, so we prefer him to stay on his current hypoallergenic food which is readily available
The ideal home: 
Ronnie is an active lad and as such will suit an active family. Ideally, he won't be left for long periods as he adores company. He has lived with dogs before, so a friendly playful canine companion would be lovely for him.
Ronnie hasn't been bought up with young children and as he is still learning boundaries, we feel any children in the home will be aged 12 years and over.
Other comments: 
Ronnies new family will need to understand they are getting a dog that has had limited training and boundaries imposed. He is learning new commands fast so with the right approach he will make a lovely family pet.
He travels well, so we are happy to consider the perfect home up to 4 hours from his current location.
Ronnie's adoption donation fee is £450 and will need to be paid in full prior to him going home which will also be subject to a home check.
🚨 PLEASE READ CAREFULLY BEFORE APPLYING 🚨

1. Have you read the adoption criteria in full?  You must meet ALL dog's criteria.
2. COMPLETE APPLICATION form and pay your £5 subscription
3. PAYMENT REFERENCE must on the application form to cross reference.
4. PAYMENT METHOD : pay via PayPal www.paypal.me/gbspringboard or
Bank transfer Sort : 09.01.28 Acc : 92014344.

🚨 UNLESS WE SEE PROOF YOU HAVE PAID; WE CANNOT PROCESS YOUR APPLICATION 🚨.

£5 per year allows you to apply for as many dogs as you wish should you not be suitable on your first Application.
To apply, please complete the application form below

https://www.cognitoforms.com/GeordieBulliesSpringboard1/adoptionapplication