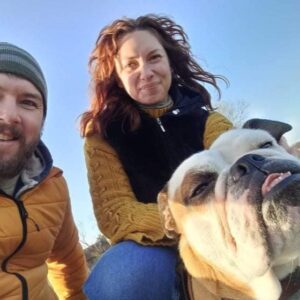 Harlow is home!
We are very pleased to announce that Harlow has gone home.
She joined Jo & David and wasted no time investigating her surroundings and making herself quite at home.
Harlow settled really well, and made it clear this is her happily ever after. She soon had Jo & David trained and wrapped around her little paws.
So huge congratulations to Jo & David, we hope you have lots of fun with Harlow and we are looking forward to seeing updates of your life together.
We want to thank foster mum Heather Mills who has been a fabulous foster mum to Harlow. Harlow has done remarkably well due to your care, and a big shout out as she was your 1st foster are we are very grateful, thank you.
A little of Harlow's story below,
Harlow is a young and very playful girl who enjoys running for her ball and will sit and happily chew on her chew toys. She loves her food and will now sit and wait and she is starting to understand more  commands such as down & wait and she has very good recall off the lead.
Harlow will walk happily and is relaxed around dogs after introductions.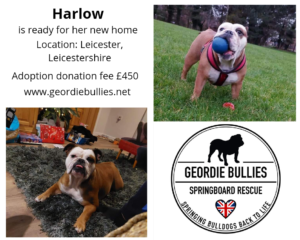 Dogs name:  Harlow
Age:  2 years & 6 months
Can live with children:  Yes
Can live with dogs: Yes a playful, friendly dog, used to dogs being in the home
Can live with cats:  Untested
Current location:  Leicester, Leicestershire
Things to be aware of: 
Harlow is scared of loud noises and if you raise your arm / hand near her she will cower and this has, on occasion, made her bark and growl. Her foster mum reassures Harlow by calling her to her which helps hugely.
Harlow doesn't like being left and has displayed anxiety such as crying. Her foster family have been working on this, but any new family will need to be patient with her.
Harlow cannot be crated.
The ideal home: 
Harlow has really enjoyed being taken out and about as one of the family so we are looking for a home where she will be included in family activities and not left for long periods.
Other comments: 
Harlow has not, to our knowledge, lived with another dog but we have introduced her to a happy, playful other dog in the home and this has gone very well. 
With this in mind, we feel the company of another dog will really help Harlow with her confidence and anxiety.