Ronnie is described by her foster mum as absolutely adorable, and very loving and gentle. She loves company and having her chin scratched, ears tickled, and her tummy rubbed. She doesn't know how to play with toys and doesn't enjoy rough play, she is a very gentle soul.
Before her eyes we operated on she was very wary of dogs outside the home and she would snap at them if they came close but now, she is much better and will let dogs approach,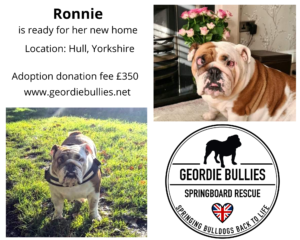 Dogs name: Ronnie
Age:  5 ½ Years old
Can live with children:  Yes aged 12 years and above
Can live with dogs: No
Can live with cats:  Yes
Current location:  Hull – East Yorkshire 
Things to be aware of: 
Ronnie will need to be spayed in her new home. This will be done at the charities expense and at a vet of the charity's choice
Ronnie still has some lubricating drops for one of her eyes, but her tear production is increasing well, so we are hopeful the need for eye drops will cease.
The ideal home: 
Ronnie adores company so we would love her to be in a home where there is someone around for a good part of the day. She also loves her walks and is used to having 2 walks a day so it would be nice to see this continued in her new home
Ronnie has lived with children before but not young children whilst in foster so any children in the home will need to be aged 12 years and above.
Other comments: 
Little Ronnie has had a lifetime of discomfort with her eyes, and this had made her very grumpy. Since she has recovered from her operation, we have seen her blossom and become so much more relaxed and happier.
She really is a lovely girl who is house trained and travels well in the car so we will consider the perfect home for Ronnie up to 4 hours from her current location in Hull.
Ronnie's adoption donation fee is £350 and will need to be paid in full prior to her going home which will also be subject to a home check
? PLEASE READ CAREFULLY BEFORE APPLYING ?

1. Have you read the adoption criteria in full?  You must meet ALL dog's criteria.
2. COMPLETE APPLICATION form and pay your £5 subscription
3. PAYMENT REFERENCE must on the application form to cross reference.
4. PAYMENT METHOD : pay via PayPal www.paypal.me/gbspringboard or
Bank transfer Sort : 09.01.28 Acc : 92014344.

? UNLESS WE SEE PROOF YOU HAVE PAID; WE CANNOT PROCESS YOUR APPLICATION ?.

£5 per year allows you to apply for as many dogs as you wish should you not be suitable on your first Application.
To apply, please complete the application form below

https://www.cognitoforms.com/GeordieBulliesSpringboard1/adoptionapplication