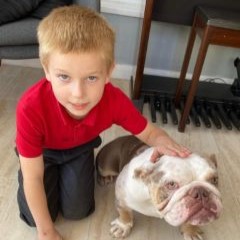 Rose is Home!
We are very pleased to announce that our beautiful Rose has found her happy ever after with Sarah and Michael and their beautiful children.
Rose was collected by her very excited new family and has wasted no time getting to know everyone. She has been enjoying lots of cuddles and belly rubs.
Please join us in congratulating Sarah, Michael and their beautiful children on their gorgeous baby girl and to Rose, have a fabulous new life sweetheart We are looking forward to seeing all your new adventures.
Be happy sweet girl!
Huge thank you to Sue Peach who has done a fabulous job caring and preparing Rose for her forever home. Thank you so much, we are forever grateful for all your help x
A little of Rose's story below,
We had a message of her owner asking if we could take her in and it became apparent that she was due to have puppies any day but he didn't want us to take Rose and her puppies, just Rose!
She was living with five other dogs, and she wasn't getting on well with two of the other dogs so was living in an indoor kennel but because of her dislike to the two resident dogs. Her owner had already decided that she couldn't be trusted with her own puppies, so he had a surrogate in place to raise the puppies which was his other bitch who had only recently had a litter. She is going to be extremely confused we are hoping she doesn't become withdrawn.
Thank you to our amazing volunteer network we quickly had a foster in place, and she was collected quickly, she had a few hotspots and a very crusty nose.
Rose needed a lot of TLC, calm and compassion. But it didn't take her foster family long before they could see her opening up and showing her sweet loving side.
Rose is a very loving girl who has come from something of a hectic previous home with lots of dogs.
This has made her quite nervous of dogs and she prefers to stay by her fosters side if there are dogs around when she is on her walks. This hasn't put her off walking though, she just prefers not to interact with other dogs.
She is playful and loves playing ball in the garden and playing tug of war with her snake, being chased, and getting lots of fuss, belly rubs and attention she lacked in her previous life.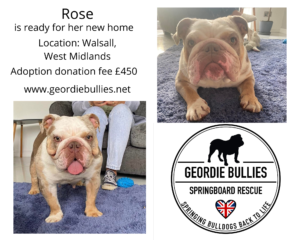 Dogs name: Rose
Age: 2 Years 1 month
Can live with children: Yes aged 6 years and over, dog savvy
Can live with dogs: No
Can live with cats: No and no other furries
Current location: Walsall, West Midlands
Things to be aware of:
Rose has taken a couple of weeks to be clean overnight, but now she will bark to let her foster family know of she needs to go out.
Rose came into foster suffering with ear infection and hotspots, both possibly caused by her diet. She is on a raw diet which she needs to remain on, and we are in the process of eliminating various proteins to see if that helps.
The ideal home:
Rose would be very well suited to a calm home, where she can relax as an 'only dog'
She has met children since being in foster and has been very calm and gentle around them. The children have been dog savvy so this will be required in her new home and obviously young children need to be supervised.
She enjoys playing ball in the garden, so she needs access to an outside space and not to be left for long periods.
Rose will be equally happy with or without children in the family as long as she in included in family life and loved.
Other comments:
Rose is in foster with a laid-back female dog and whilst she has definitely started to decompress over the past couple of weeks, she is still nervous around her so she would be happier as an only dog.
Rose will make a lovely family pet; she really is enjoying having something of a normal life after having her pups taken away from her after a C-section and coming straight into foster.
This girl deserves a loving home.
{"slide_to_show":"3","slide_to_scroll":"1","autoplay":"true","autoplay_speed":"3000","speed":"800","arrows":"true","dots":"false","loop":"true","centermode":"false"}