Rosie is a very loving and placid girl, who is a bit timid when she is uncertain and needs a little reassurance sometimes.
She was very interested in the resident cats when she first came into foster but after a few hisses, she now takes no notice of them, so we have no issues with her being rehomed with resident cats.
Rosie didn't know how to play initially but she has gradually started to like her chew toys, but she tends to get possessive if Skipper the resident Bulldog gets too close.
She likes her walks, although this is being taken slowly and her muscles will need to be built back up with short walks which will be gradually increased. She has a programme she is following which might be completed by the time she is rehomed. If not, it will need to be continued.
Rosie is scared of fast movements and loud noises and will flinch and throw herself on the floor but is fine with reassurance.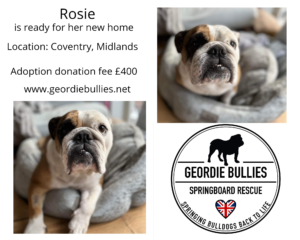 Dogs name: Rosie
Age:  4 Years 11 months
Can live with children: Yes
Can live with dogs: No
Can live with cats:  Yes
Current location:  Coventry, Midlands
Things to be aware of:
Rose has had an operation to correct a luxating patella. She has been on strict crate rest for the past 2 months with a slow entry back into walking. She has made a very good recovery and we don't anticipate any problems going forward
The ideal home: 
Rosie would really flourish in a calm home where there are no noisy surprises and where she can be encouraged to play and get the love that she craves.
Rosie has lived with children in her previous home, so we are happy for her to be around children old enough to understand she is scared of loud noises.
She will need her exercise regime continued until she back to full fitness.
Other comments: 
Rosie is a sweetheart of a girl. She lives with Skipper in her foster home but there have been a few spats over toys so to give her the best chance in her new home, she will need to be the only dog.
She appears to have led quite a sheltered life so it's time for her to have a loving home where she can carry on flourishing.
Rosie's adoption donation fee is £400 and will need to be paid in full prior to her going home which will also be subject to a home check.
🚨 PLEASE READ CAREFULLY BEFORE APPLYING 🚨

1. You MUST MEET ALL the dogs' criteria, have you read the adoption criteria in full? 
COMPLETE APPLICATION FORM
PAY YOUR £5 SUBSCRIPTION – SEE NOTE BELOW**
PAYMENT REFERENCE must on the application form to cross reference. Mention if you have paid by Paypal or Bank Transfer if you are unable to provide a Transaction Number so we can check.
PAYMENT METHOD Via Enthuse using the link below.
Geordie Bullies Springboard Rescue – donate

Note:
UNLESS WE SEE PROOF YOU HAVE PAID; WE WILL NOT PROCESS YOUR APPLICATION AND YOU WILL NOT BE CONTACTED.

£5 per year allows you to apply for as many dogs as you wish over a 12 month period from your first  application. Please mention if you have paid by Paypal or Bank Transfer on any previous applications so we can cross reference.

Here is the link to the Application Form.

https://www.cognitoforms.com/GeordieBulliesSpringboard1/adoptionapplication
{"slide_to_show":"3","slide_to_scroll":"1","autoplay":"true","autoplay_speed":"3000","speed":"800","arrows":"true","dots":"false","loop":"true","centermode":"false"}