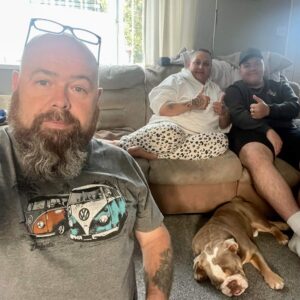 Fergus is Home!
We are very excited to announce Fergus has found his loving forever home with Sharon, Aubrey and Callum.
Fergus was collected and wasted no time in getting his new family to fall in love with his charms and his cheeky wee face. He has settled perfectly, has been enjoying plenty of time in the garden.
Please join us in congratulating Sharon, Aubrey and Callum on their gorgeous new edition.
We wish you all a lifetime of endless fun and happiness together and look forward to sharing the next chapter of your life with you.
To Fergus be good but most of all be happy handsome boy xxx
A massive thank you to Sue Hodgkins and her husband Stephen on an amazing foster! Thank you so much for all your hard work in preparing Fergus for his forever home. We are all very grateful to you and know how hard it was to say goodbye x
A little of Fergus's story below,
Fergus is a typical young English Bulldog who ignores most commands unless there is a treat involved. He is very playful and will steal clothes and shoes etc and he loves chasing his ball. He likes rough play but as he is only a puppy, he can become over excited so this is limited as he will start to mouth.
Fergus allows hugs on his terms and he see this as a precursor to playtime but he loves human contact and will happily lay on the feet of his foster parents.
Fergus can be wary of young children and the movements and noises they make, and this can also stimulate him, and he can become very excited a boisterous and jump up to play.
He loves his walks, but he will back away from some dogs when they approach, there is no aggression, just a bit of anxiety which should be helped by further socialising in his new home.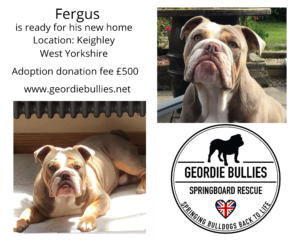 Dogs name: Fergus
Age:  8 Months
Can live with children: Yes, dog savvy
Can live with dogs: A very laid-back dog
Can live with cats: Will probably chase
Current location:  Keighley, West Yorkshire
Things to be aware of: 
Fergus will not be rehomed with an entire dog, male or female, as he is entire himself. We will recall Fergus to have him neutered at around 18 months and the charity will pay for this at a vet of our choice.
The ideal home: 
Fergus would benefit from a calm but active home where he can be involved as a member of the family and taken out and about.
As mentioned, he can become excitable and get boisterous so any children in the home must be old enough to understand this and not to be hyper around him and young children would obviously need to be supervised.
Fergus was fighting with another dog in his 1st home so if there is a resident dog, they would need to be very laid back and sterilised as Fergus will start to become hormonal as he gets older, equally he will be very happy as an only dog.
Other comments: 
Fergus is a bright boy that hasn't had much training at all so his new family will need to carry this on, so he understands boundaries. He is hormonal and can be a bit of a humper which is controlled with a firm NO.
He isn't keen on being left and will bark so this is an area that needs to be understood and worked on.
Ideally, he needs a home where there is someone around for most of the day.
Fergus is only a puppy and with the right family who will provide further training and boundaries he will make a smashing pet.
{"slide_to_show":"3","slide_to_scroll":"1","autoplay":"true","autoplay_speed":"3000","speed":"800","arrows":"true","dots":"false","loop":"true","centermode":"false"}