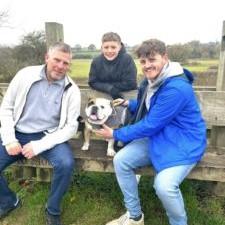 Rosie is Home!
Rosie is staying put with Emma and her family.
Emma and her family have worked to hard bringing Rosie back to health. They have fallen in love with her completely. We were so happy when they asked to make them her forever home.
Please join us in congratulating Emma and her family on their beautiful Rosie.
To Rosie you are home safe sweet girl. Have the happiest, love filled life. We look forward to watching your adventures to come. 
A little of Rosie's difficult story below,
Rosie joined her new family (Lindsey & George) what should have been the most joyous and exciting time but sadly, what was as very joyous event soon became the new owner's nightmare!
On the first evening, Rosie started holding her back leg up. We always give 100% support to new owners, and we kept in contact asking for photos and providing advice like we would with any new owner.
The next morning, we checked in with Lindsey and Rosie's foot had started to swell, not a lot but, enough to feel she might have picked up a grass seed between her toes, so we advised she needed a vet check.
At 6pm Lindsey took Rosie to MEDIVET WOKINGHAM, and the nightmare began.
By 6.40pm the vet had advised Lindsey that Rosie had Cellulitis and that she will need to be hospitalised overnight and given x-rays. And then Lindsey was presented with a bill just shy of £1800.
Obviously, Lindsey was beside herself with worry and updated us with the limited information the vet had shared with her so we offered to call the vet to find out what was going on.
We called to ask for a breakdown of the costs so we could understand what they thought was causing this problem, (remember we were thinking she possibly had a grass seed) and how it was going to be treated but they absolutely refused to speak to us – they had one of our dogs and REFUSED to speak to us or give her back.
They told Lindsey, if she tries to collect Rosie and take her to another vet, the RSPCA will be called!
We have never had a situation like this with a Vet and we were shocked at their aggressive attitude. Lindsey and her husband went back to the vet to speak to them about what they planned to do, and the vet advised Rosie was slightly dehydrated and needed IV anti-biotics so it was agreed that she would stay overnight, and the cost was reduced to £700.
The next morning Lindsey was contacted by the vet who informed her she had deteriorated overnight – obviously as they had refused to speak to us up until that point, we had no idea she had become very poorly – and we still had no idea what we were dealing with or a treatment plan.
They mentioned to Lindsey that Rosie's leg might need to be amputated which was devastating,
At this point we had had enough. The vet at Medivet was still refusing to speak to us but they agreed to speak to another vet on our behalf about Rosie.
We contacted another vet to see if they would take Rosie which thankfully, they agreed to.
When we collected Rosie, we were shocked at the state of her leg, this poor little girl was in a sorry state.
Poor Rose hadn't even been given Paracetamol to help bring her temperature down, she has been let down badly by this vet practice and we have lodged a formal complaint at the way the Vet refused to speak to us even though Lindsey had authorised our involvement.
Rosie had been taken back into the care of Geordie Bullies, for no other reason than she really needs our help
Rosie was collected by Lindsey and Karen, one of the admin team, from the previous vet at midday and rushed for treatment at Windlesham Village Vets.
She was very subdued and very hot with a raging temperature, the lower half of her foot was not covered or even lightly dressed in anything sterile, and it was dripping with blood and pus as she was put into the car by one of the Medivet staff.
Once she arrived at Windlesham Village Vet, Liz saw her immediately.
She was very gentle as she examined Rosie and showed immense empathy and consideration for her as she explained she is in real danger of sepsis.
There was no way to tell what has caused such a catastrophic infection and there was no point x-raying Rosie's leg until the swelling has gone down.
From Rosie's paw up to her thigh was very swollen and the skin is starting to become necrotic as the blood supply was restricted.
Because of the swelling, there were breaches on the skin as it weakens which is allowed blood and pus to ooze out.
Quite frankly this sweetest of girls was in real trouble and we needed to do everything we could to save her.
Rosie is on IV antibiotics and Paracetamol to fight the infection and lower her temperature and pain killers to make her as comfortable as she can be. The black skin will probably fall off her leg and she will need dressings for some time.
Rosie, she had a long road to recovery, but we knew she could make it.
Rosie is a very loving and placid girl, who is a bit timid when she is uncertain and needs a little reassurance sometimes.
She was very interested in the resident cats when she first came into foster but after a few hisses, she now takes no notice of them, so we have no issues with her being rehomed with resident cats.
Rosie didn't know how to play initially but she has gradually started to like her chew toys, but she tends to get possessive if Skipper the resident Bulldog gets too close.
She likes her walks, although this is being taken slowly and her muscles will need to be built back up with short walks which will be gradually increased. She has a programme she is following which might be completed by the time she is rehomed. If not, it will need to be continued.
Rosie is scared of fast movements and loud noises and will flinch and throw herself on the floor but is fine with reassurance.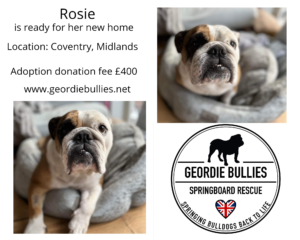 Dogs name: Rosie
Age:  4 Years 11 months
Can live with children: Yes
Can live with dogs: No
Can live with cats:  Yes
Current location:  Coventry, Midlands
Rosie would really flourish in a calm home where there are no noisy surprises and where she can be encouraged to play and get the love that she craves.
Rosie has lived with children in her previous home, so we are happy for her to be around children old enough to understand she is scared of loud noises.
She will need her exercise regime continued until she back to full fitness.
Other comments: 
Rosie is a sweetheart of a girl. She lives with Skipper in her foster home but there have been a few spats over toys so to give her the best chance in her new home, she will need to be the only dog.
She appears to have led quite a sheltered life so it's time for her to have a loving home where she can carry on flourishing.
{"slide_to_show":"3","slide_to_scroll":"1","autoplay":"true","autoplay_speed":"3000","speed":"800","arrows":"true","dots":"false","loop":"true","centermode":"false"}