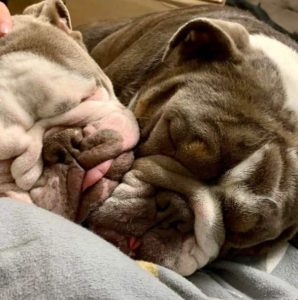 Skye and Star are Home!
We are absolutely thrilled to announce that Skye and Star have found their forever home with Mary and Martin.
Sadly their beautiful Bulldog Betty went over rainbow bridge and they couldn't bear to be without a bully in their lives. Now they have two!
Both girls have settled in perfectly and took not time in training their new servants and have been out exploring their new garden, enjoying the sun and getting up to all sorts of girlie antics.
Star also has a brand-new name, Milly!
Please join us in congratulating Mary and Martin on their beautiful girls We look forward to sharing the next chapter of your lives!
So little Skye and Milly, now your forever adventures begin, have a wonderful life in your new home sweethearts.
A massive thank you to their amazing foster Mum Marie Mills and her family for rescuing these beautiful girls and preparing them for their forever home You have been fantastic, going above and beyond and we will be forever grateful to you!
A little of Skye's story below,
Skye came into our care after her family contacted us after deciding to downsize the amount of dogs they had. What our foster found when collecting her left us all in absolute disbelief. Skye along with her daughter were living outside in absolute deplorable conditions. Left in their own waste soaked in urine and mud. No condition for any living creature, that's for sure. We attempted to talk the family into taking Skye's puppy as she was in worse condition and had us extremely concerned. But nothing we could say at that moment would change their minds.
At that moment we just had to get Skye safe and work on the baby. Relief is an understatement when we were contacted to get Star, both girls now amazing, healthy and happy.
Skye is being rehomed with her daughter, Star
Both girls really enjoy any kind of human attention. They are both starting to become a lot more playful and Star is a nosey little character, they are great fun together and really enjoy their squeaky toys
Because both girls have had recent surgeries, Skye has had limited walks which went well and Star has never been walked, ever, so this will be like opening up a new world for both of them once they are in their new home.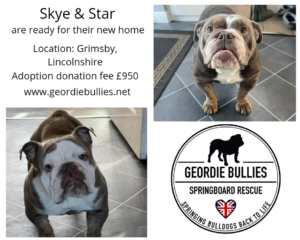 Dogs name: Skye & Star
Age: Skye 3 years, 2 months, Star 1 year
Can live with children: Yes
Can live with dogs: Yes
Can live with cats: Untested
Current location: Grimsby, Lincolnshire
Things to be aware of:
The girls still require toilet training
The ideal home:
The girls will be a delight in any home where they are not left for long periods. They have been fabulous around the children in their foster home so they can be rehomed to a family with children, obviously, young children would need to be supervised.
Other comments:
Both Skye and Star came to us having had hardly any human interaction such as toilet training, playtime, commands and walking but they are really starting to flourish in these areas.
The toilet training is coming on well and they will need a home where there is someone around for a good part of the day to keep them in a good toileting routine.
They are mother and daughter and incredibly bonded, and they will be an absolute delight to have as part of a loving family.
We will consider a new home up to 4 hours from their current location in Grimsby.
Follow Skye https://www.facebook.com/geordiebullies/
{"slide_to_show":"3","slide_to_scroll":"1","autoplay":"true","autoplay_speed":"3000","speed":"800","arrows":"true","dots":"false","loop":"true","centermode":"false"}